Google Nexus 5: Tips to Increase Battery Performance
The fifth generation Nexus smartphone has a battery capacity of 2, 300mAh, which according to official battery ratings, delivers talk time up to 17 hours, standby up to 300 hours, web browsing up to 8.5 hours on Wi-Fi up to seven hours on LTE.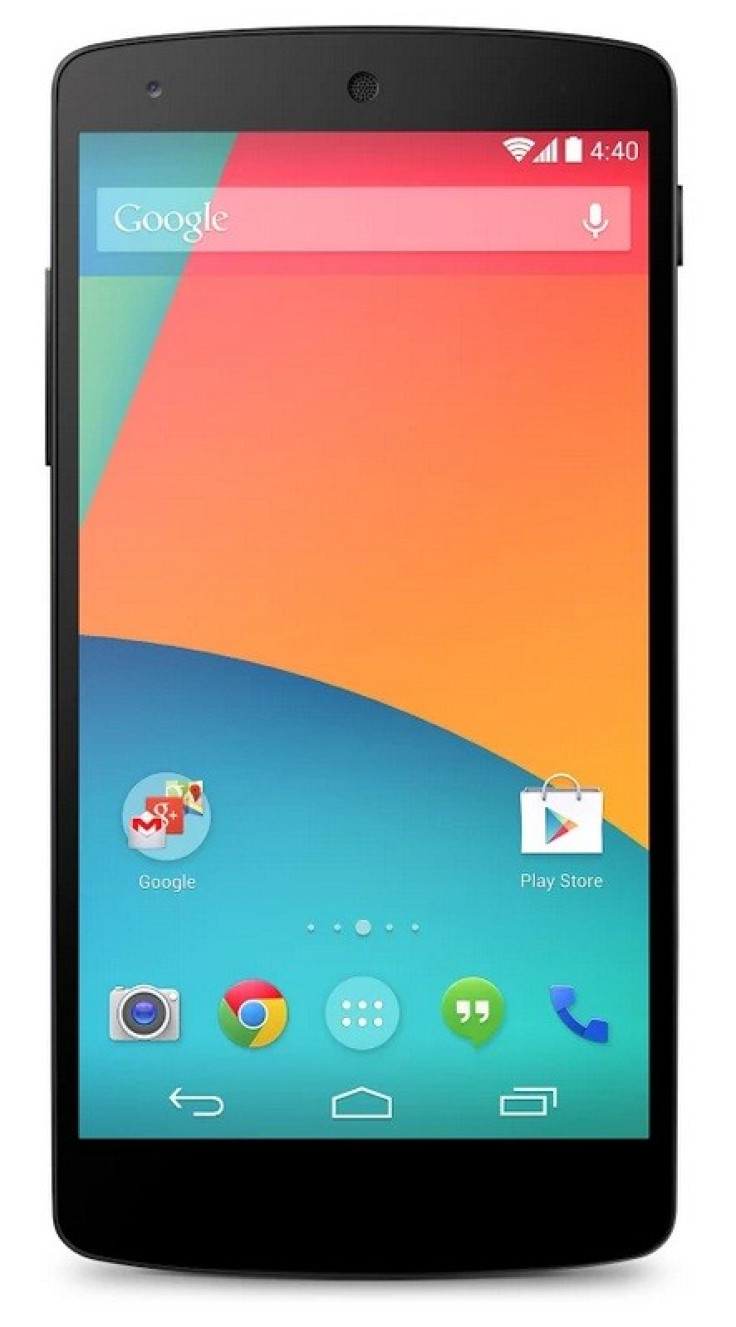 LG's 3.8V (2,300mAh) battery inside Nexus 5, according to the teardown treatment by iFixit, offers a slight jump in terms of capacity over the fourth Nexus smartphpone.
However, users can enjoy an extended battery life on Nexus 5 through several customisation and tweaks. Below are a few tips to increase the battery performance of Nexus 5.
Set screen brightness and Sleep time
Although it would be interesting to browse, watch videos, displaying Facebook messages and tweets on the 5in full HD screen of Nexus 5 but keep in mind that display drains more battery than anything else. Therefore, reducing screen brightness will help in saving power. Head over to Settings>> Device>> Display and set the brightness of the screen accordingly.
Additionally, set the display sleep time, which sets how long the display will stay powered on and lit up while not in use. Hence, fix the sleep time as short as possible (for instance 30 seconds). This will help in saving battery life. Also, avoid the use of Live Wallpapers as they drain battery faster when activated instead use wallpaper without animation.
Wi-Fi, 4G LTE and Bluetooth
Disable Wi-Fi and Bluetooth when not in use. If you are in a Wi-Fi location but not using Wi-Fi, turn it off as the device will continuously search for a network. Navigate to Settings and slide to off both Wi-Fi and Bluetooth.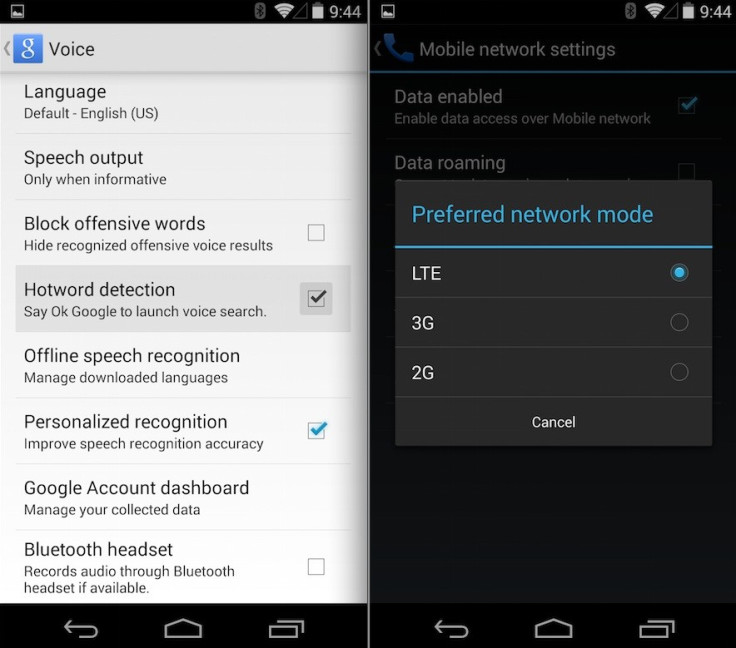 There is a new feature called Hotword Detection of Google Now. It lets the phone always listen for keywords such as OK, Google to start a search using Google Now. Although this feature does not contribute much to power consumption, disabling it will help preserve battery life. Besides, users who are travelling in and out of network coverage areas are advised to turn off the 4G LTE feature. Go to Settings>> More>> Mobile Network>> Network mode and set the Nexus 5 to 3G or 2G.
Location Services and GPS
When the GPS is turned on for Google Maps and Navigation or Facebook needs location to share with friends, GPS needs more power. In Android 4.4 KitKat Google has changed this system and give users more control over how all aspects of location services uses GPS and thereby the battery. Go to Settings>> Location>> Mode and select Battery Saving to save power.
Turning the location services completely will help in increasing the battery life. However, usually leaving the Location services enabled and on Battery Saving is ideal, as this uses mobile networks, towers and Wi-Fi access points to determine location, instead of GPS, which is a power hungry app.
Data, Gmail and Google Sync
For various reasons users wish to keep most of Google's sync settings enabled for Calendar, Contacts, Gmail and other things, but if you do not need the Gmail syncing and checking for mails frequently, then change it. Gmail can be set to check whenever required. Go to Settings>> Accounts>> Google>> and select account will show the sync options.
Having Google sync in everything starting from Music, Chrome browsing history, and saving app data and settings is a key feature that makes Android powerful. But for those who wish to save energy, here is a way to do so. Auto Backup of photos by Google +, DropBox, Google Drive or any other service comes under the same category. Either disable it or set it to only backup over Wi-Fi instead of mobile data.
Notifications
Starting from Gmail, Twitter, Facebook and all others have notifications that drain battery. Those who are using third party Twitter apps choose to give updates in every 30 minutes or every hour but not every five minutes, which will constantly wake the device and juice battery throughout the day.
Additionally, use apps that sync or access mobile networks sync or notify users when over Wi-Fi, provided that is an option. There is no need for the Google Play Store to automatically update all your apps while you are away from home and depending on that battery. Select Wi-Fi only, so that it will update apps when you are at home or disable it completely.
Airplane Mode
Enable Airplane Mode while in no-network coverage area to save battery.
Also read- Android 4.4 KitKat Update Starts for Nexus 7 and Nexus 10
[Source: GottaBeMobile]
© Copyright IBTimes 2023. All rights reserved.