The Google Nexus will be the first device to run the latest version of Android 4.1 (Jelly Bean) operating system. The recently unveiled Google Nexus 7 has been given the benchmark treatment by the Anand Tech. The device has been "built for Google Play" that allows users to consume the apps, games, books and movies available in the Google online store. The device is expected to be available in mid-July. It is powered by the Nividia Tegra 3 chipset with 1.3GHz quad-core processor and ships 1GB of RAM. Check out the benchmark treatment of the Nexus 7.
SunSpider JavaScript Benchmark
In the SunSpider JavaScript benchmark test, the Nexus 7 outshines other competitor tablets such as new iPad, BlackBerry Playbook and Amazon Kindle Fire by scoring 1665.9. In this test, the lower score is considered to be better. Here, the benchmark tests are conducted for the core JavaScript language only and not the other browser APIs. It compares the different versions of the same browser as well as different browsers to each other. It is expected to run each test several times and determines an error range (technically, a 95 percent confidence interval).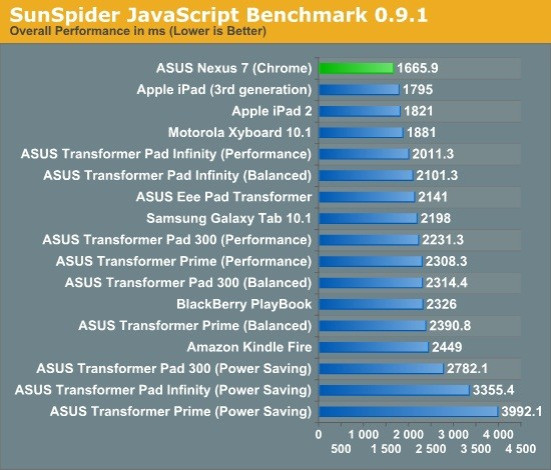 Rightware BrowserMark
In the Rightware BrowserMark test the Asus Transformer Pad Infinity beats the Nexus 7 by just 1303 points. Yet, the Nexus 7 manages to grab the second spot. The BrowserMark is a benchmark tool which is conducted to measure browser performance of devices. It will measure the performance in JavaScript and HTM rendering. It will suggest which browser performs the best by testing the device's JavaScript functionality. Hence, higher score is better.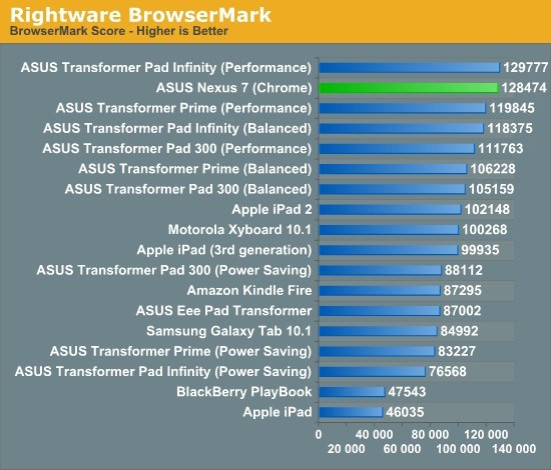 GLBenchmark 2.1 - Egypt - Offscreen 720p
The GLBenchmark 2.1 - Egypt benchmark gives the Nexus 7 63.2 points which helps it to manage fifth position. The test measures various graphics and computation of the device. The new iPad grabs the top spot with the iPad on second position. Hence, it shows that PowerVR SGX 543MP4 and PowerVR SGX 543MP2 are more powerful than the Tegra 3 chipset. The Nexus 7 is powered by Tegra 3 chipset (T30L).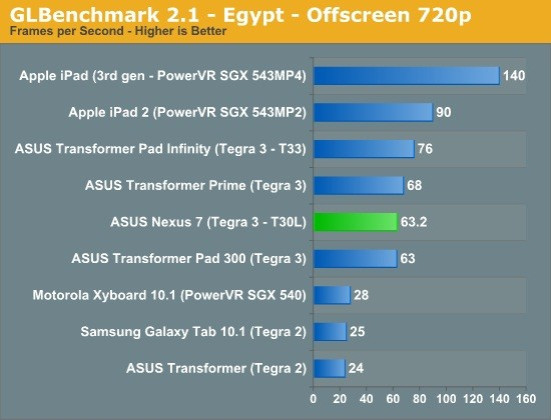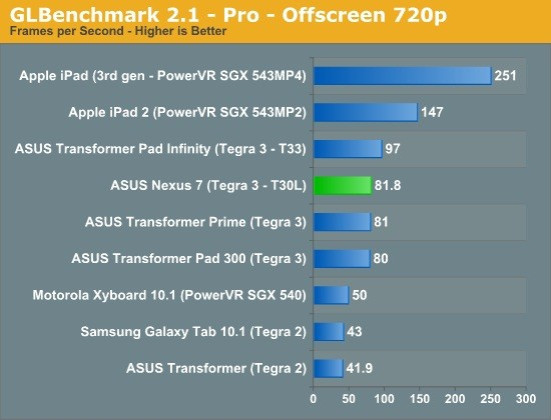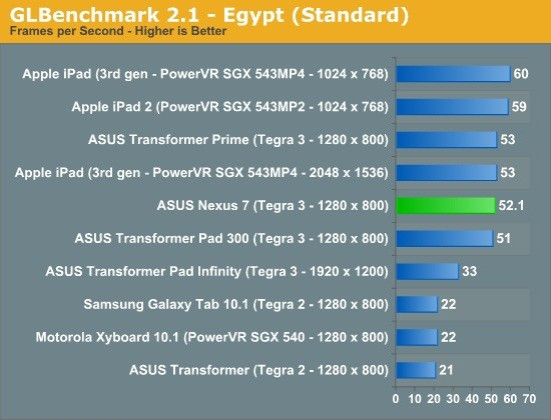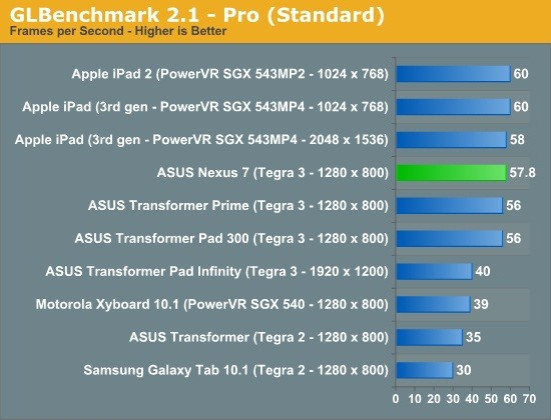 Pixel density comparison test showed up satisfactory results. The new iPad which comes with a resolution of 2048 x 1536 pixels outperformed the Pad Infinity, Retina display Macbook Pro and Nexus 7 tablets.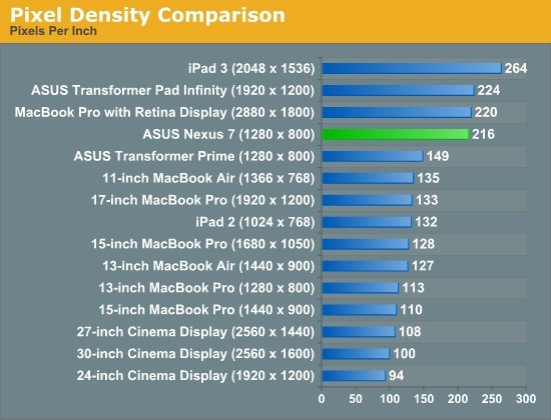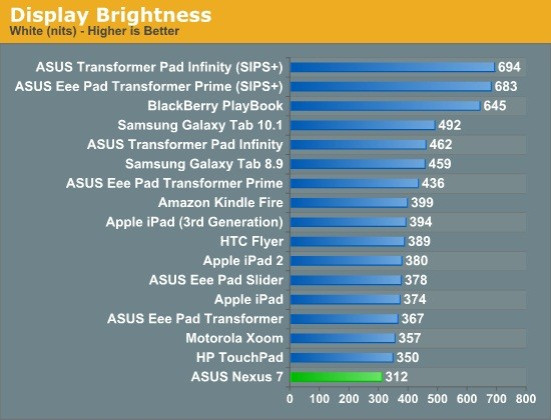 In terms of white (nits) display brightness test, the Nexus 7 scored just 312 points, while the Asus Transformer Pad Infinity (SIPS+) gained the top spot with 694 points. But, in terms of black (nits) the Nexus 7 managed to score well by scoring 0.37 points.