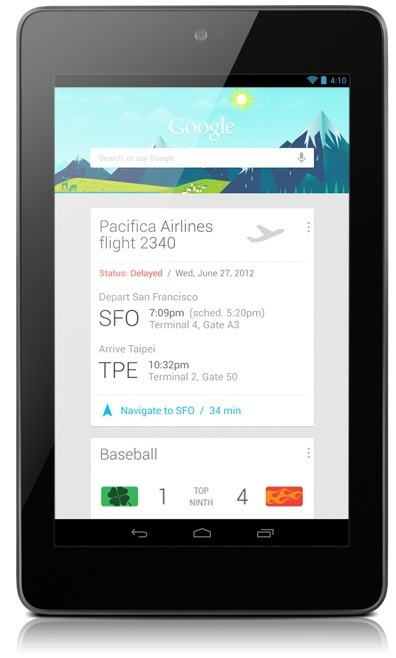 The newly launched Android 4.1 (Jelly Bean) mobile operating system introduces Google Now - the Internet search giant's version of the popular voice-activated personal assistant Siri, which debuted with Apple's iPhone 4S last year. A note on Gotta Be Mobile indicates that among other features, this software can even give translations, currency conversions and flight information.
The problem is that Google Now will not run on any Android version below the newly launched Jelly Bean, effectively meaning the world will have to wait while hardware manufacturers play catch up with Google. As of now, the only devices running Jelly Bean (and therefore Google Now) is the Google Nexus 7 tablet. The Samsung Galaxy Nexus and the Nexus S are expected to get Android 4.1 updates, according to a note on CNET, sometime in mid-July.
A measure of good news, for users with Android 4.0 (Ice Cream Sandwich) devices is that members at XDA Developers have released a hacked version of the Google Now APK.
There are a few limitations though. For example, the user needs a rooted device running any ICS AOSP-based ROMs such as CyanogenMod and AOKP. In addition, the hacked APK does not support Voice Search functions and only operates with the English language.
Steps to install Google Now
1. Connect the ICS device to the computer
2. Open Root Explorer and go to the system folder
3. In the system folder, identify build.prop. Open the file in a text editing application
4. Edit ro.build.version.sdk = 16 and save
5. Go to System > App and rename GoogleQuickSearchBox.apk to GoogleQuickSearchBox.apk1
6. Reboot device and install Google Now - which can be downloaded here
7. Edit build.prop again and change to ro.build.version.sdk = 15 before rebooting