Google Play Store users are in for a special treat, as the Android maker has rolled out the 5.5 update with bubble-like animations to bring a facelift to its already colourful Material Design UI.
Android Police cited veteran Googler Kirill Grouchnikov as saying that a bold new interface embraces the latest version of Google Play Store as each clickable item on the Play Store transforms into a bubble when invoked. Then the bubble floats, expands and bursts after reaching the top of the screen.
Whenever you decide to go back to the previous page, the animation will go backwards as if you are rewinding an action movie. In other words, the page shrinks back into a bubble, before transitioning to the previous page.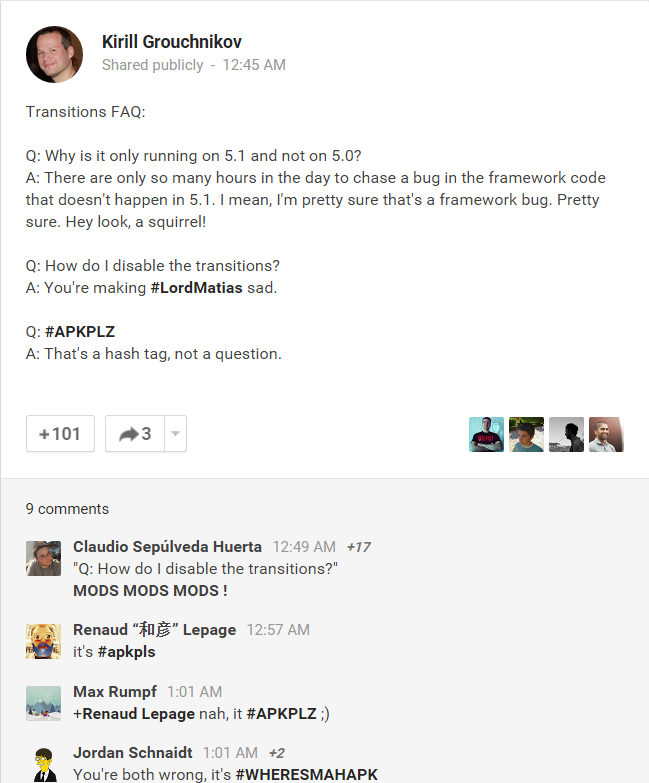 On the downside, the animation is currently limited to TV shows and is compatible only with Android 5.1, as the previous versions are reportedly affected with a framework bug that blocks the animation feature.
Android Police adds that the Play Store now reveals popular opinions above reviews in the form of small thought bubbles, wherein the number of people who agree with a certain point are also listed underneath.
Interested users can go ahead and download the latest version of Play Store (v5.5.8) via the APK download mirror, wherein the cryptic signature assures that the file is safe for download and not modified by third-party.
Those who cannot wait for the official release from Google can download the APK file right away and flash it just like any other APK-based app.
In case you want to take a first look at the new bubble animation for Play Store 5.5, check out the demo video (below):