Google Play Store: Developers can now see review highlights and detailed rating charts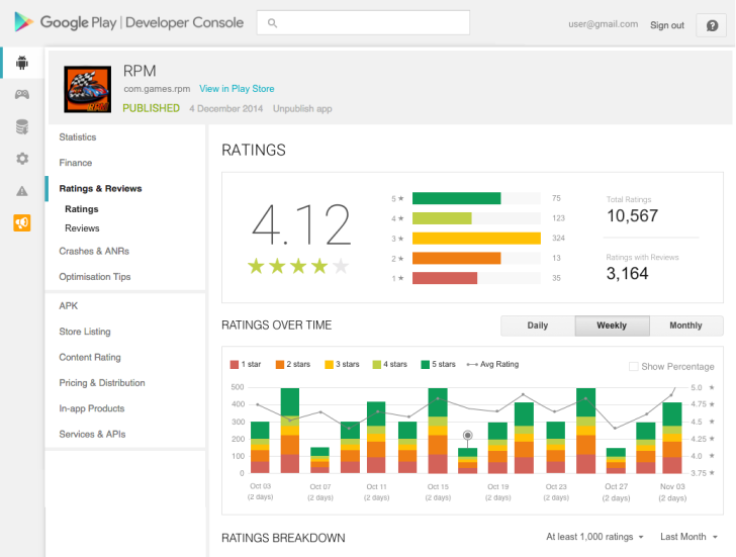 Google Play Store for developers has received a major upgrade which will enable app developers on Android to track the progress of their apps much better. App developers can now not only see what people are saying about their app but also get a detailed graph which will show how their rating fared over different time periods.
"We recently revamped ratings and reviews with features you can now find on dedicated pages in the Developer Console," Fergus Hurley, Product Manager, Google Play posted in the Android developer's blog.
The blog posted what the exact updates were and how they would enhance the experience for developers. See the details below:
See ratings over time: See how your rating changes daily, weekly, and monthly and easily spot any changes when you release a new version of your app.
Ratings breakdown: Break down your rating by country, language, device, app version, or Android version.
Review highlights: See common themes from what users say in reviews of your app – these are the same highlights that users see on the Play Store. Review highlights are shown when you have a high enough volume of reviews and are updated regularly to reflect the latest user experiences with your app.
Device metadata: See certain device data such as RAM, CPU, and screen size so you can more easily identify problems users are mentioning in user reviews and debug such issues.
Search review text: Search inside reviews to see what people are saying about a particular topic or keyword.
Replies & updates to reviews: When you reply to reviews, the user receives an email. Now, you can also opt-in to be emailed if the user updates their review or rating.
The latest features will now enable developers to get a better idea of why their apps are not doing well or what are the areas their apps excel in. It will most importantly make communication easier between users and developers.
© Copyright IBTimes 2023. All rights reserved.