An Indian comedian has launched a satirical advert mocking his country's hugely popular skin lightening industry, which is increasingly targeting men.
The hilarious advert on YouTube, which has been viewed almost 300,000 times, stars comedian Varun Thakur unable to find a wife because his skin is too dark.
But thanks to revolutionary product Gore Gote - aimed at lightening male genitals - his dreams come true.
Or as the advert puts it: "Use white balls and become the king of romance".
The idea originated as part of Thakur's stand-up comedy act as he toured around the country fed up at seeing his country's obsession with fairness creams.
He said: "I wanted to make a comment on how India was obsessed with fairness creams.
"We have a vagina bleaching cream. We have a fairness cream for every body part except testicles."
A whitening shower gel called Clean & Dry Intimate Wash for a woman's genital area, is available in India.
For centuries women in South Asia have been raised with the belief fairer skin equates to beauty.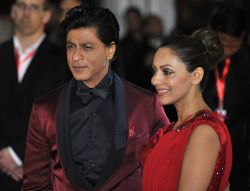 But the propensity to lighten's one skin masks the inherent racism that continues to exist in Indian culture.
As Jerry Pinto, an Indian cultural commentator, says: "Fair-skinned people tend to get better jobs, they get more attention, they star on television. It's a racist inequality."
But now the multi-million pound skin lightening industry, which has received the backing of Bollywood stars, is increasingly pressurising men and boys to turn their skins lighter with "unfair" advertising campaigns.
Actor Shah Rukh Khan caused a backlash from campaign groups when he decided to endorse Fair and Handsome lightening cream last year.
It shows him throwing a tube of it to a young fan. The next scene then shows the boy's skin growing whiter and his expectations and hopes are met.
The message, campaigners argued, is that you can only be successful if you have fair skin.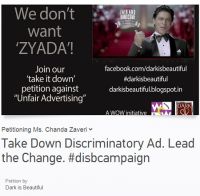 Change.org launched an online petition demanding the immediate withdrawal of the discriminatory advert.
The petition read: "Such irresponsible advertising propagates discrimination among men, women— and even children".
It went on: "Now is the time to let 'Fair and Handsome' and brand ambassador Shah Rukh Khan know that our country is ready to shed age-old biases and let every person feel comfortable in their own skin."
Actress Nandita Das posted: "Now the insecurities of men are also surfacing with equal number of fairness products for them. Such pressure and so little public debate around it!"
Sameer Pitalwalla of Culture Machine, the company that produced the comedy testicle bleaching video, said that unfortunately these products are a big money-spinner for stars like Khan.
He said: "It's a whole roster of Indian stars who peddle a product because they're getting paid for it."
According to global research firm, ACNielsen, in 2010 India's whitening cream market was worth £260m ($432m) and was growing at 18% per year.