England spinner Graeme Swann is targeting a significant role in the cricketing summer after confirmation the 33-year-old requires career-saving elbow surgery which has forced his withdrawal from the test series in New Zealand.
Swann will travel to the United States for surgery next week to remove bone fragments in the elbow, an area he aggravated while fielding during the four-day warm-up match against a New Zealand XI last week.
But with the Champions Trophy and two Ashes series between June and next January, Swann is expected to have a heavy involvement in all forms for England over the next 12 months, and the Nottinghamshire bowler feels an operation now will stand him in good stead ahead of a busy period.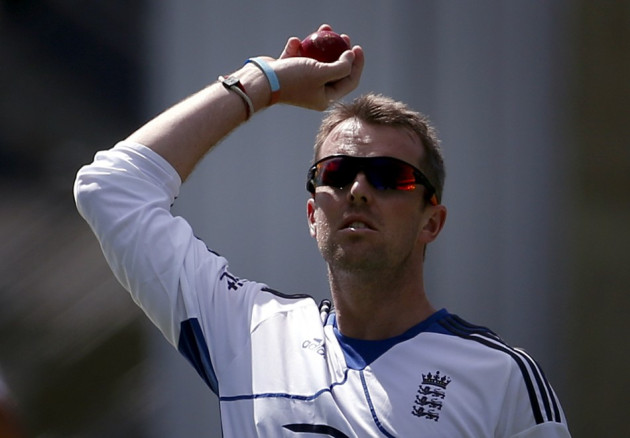 "I was trying to go through my whole career without needing surgery again, but the specialist came back and said something needed to be done," Swann said.
"So be it. It's a huge year for English cricket and a huge year for me, so if this means taking a more active part in it then it's something I have to do."
"I know if I don't have the surgery it's more or less curtains," he added. "I'm assured the surgery is relatively simple. So touch wood, it will be - and I'll wake up on the other end, and everything will be great.
"I'm buoyed by the success last time I had it done, and my elbow was in a lot worse shape then than it is now. I'm very confident I'll bounce back in a short space of time."
Swann, who has 212 test wickets at 29.13 in 50 tests, has been replaced by Monty Panesar for the first test in Dunedin, while James Tredwell has been called into the squad for the remainder of the series.
Next week's surgery will be the second procedure on Swann's elbow and will be performed by Shawn O'Driscoll, who recently worked with team-mate Tim Bresnan who underwent a similar operation last month.
"It all came about quite suddenly," Swann said. "I've struggled on and off for the last four years, but it never really manifested itself into a dire predicament for me.
"But in Queenstown, just before the game, I started to feel an unusual pain that I hadn't felt since before the last operation - and it got worse during that game.
"I raised my fears with the doctor and (team director) Andy (Flower), and the scans showed there had been deterioration.
"It doesn't seem anywhere near as dire as last time around, when it was like a bomb had gone off in there. But I knew something wasn't right; I couldn't put an extra snap on the ball when I was bowling. I like to turn the ball a lot and I was only 70-80% fit.
"I've got every faith in the surgeon, because he's the world leader," he added. "The fact you are having surgery means you have a pretty serious injury.
"Two days ago I was preparing for a Test, and now I'm flying to Rochester to get sorted out.
"I've looked forward to this tour for a long time, because I love New Zealand - but it's not to be. I'm going to be very optimistic and say I will play against them at home maybe."