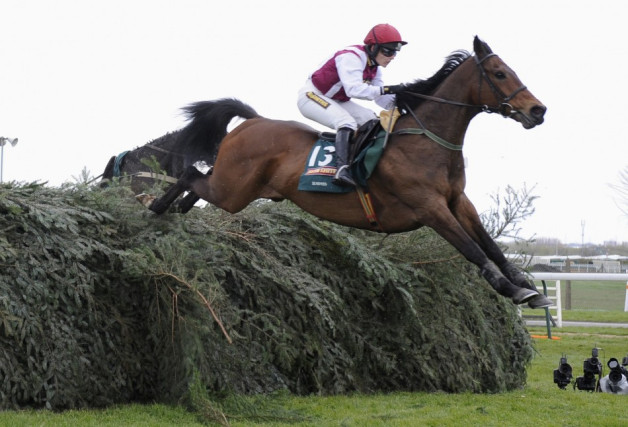 The Grand National could be a family affair as two siblings enter the paddocks in rivalry, with a win by the sister set to make racing history.
Katie Walsh, 28, hopes to become the first female jockey to win the race, but must first see off competition from her elder brother Ruby.
The pair have been dubbed "racing royalty" as they follow in the footsteps of their father Ted, a racing horse trainer.
Katie finished third in last year's race, becoming the 15th female jockey to ride in the Grand National since Charlotte Brew made history on Barony Fort in 1977.
That result made Walsh the most successful female Grand National jockey in history, while she has also ridden two winners at the Cheltenham Festival.
In today's race, Katie will ride Seabass, the mount trained by her father which she also rode in last year's race. Her brother Ruby, a double Grand National winner, rides On His Own.
The two horses are among this year's bookies' favourites, along with Colbert Station, also trained by Ted, to be ridden by champion jockey AP McCoy.
Ladbrokes expects betting of up to £200 million on the biggest racing day of the bookmaking year.
William Hill have odds of 40-1 of a Walsh 1-2-3 with Colbert Station, Seabass and On His Own to fill the first three places in any order.
They offer odds of 11-10 that Katie beats her brother in the race and 4-6 that Ruby finishes higher than Katie.
"The Walsh family are racing royalty and have a great history with the Grand National," a William Hill spokesman said.
"Ruby has ridden two winners and Ted has trained one already, so it would be more than fitting if little sister Katie was the one to make it to the record books as the first female winner.
"She has a real chance on the horse she came third on last year. Despite her amateur status, she is a very experienced rider.
"There is no doubt Katie and Seabass will be giving all the boys a run for their money on Saturday."
However, the death of a second horse within two days on the Aintree steeplechase cast a cloud over the day's excitements.
Little Josh, a winner over the Grand National fences in December, broke a shoulder at the last ditch in the John Smith's Topham Chase on Friday when he ploughed into a fence.
That came a day after Katie Walsh was herself forced to withdraw another horse, Battlefront, from the compeition during first day's racing. Battlefront later collapsed and died.
Earlier this week, she had defended the sport, telling a magazine the horses were treated better than "many children".
The deaths came despite the introduction of specially-designed "safer" fences on the course, said to be more pliant in face of collision.