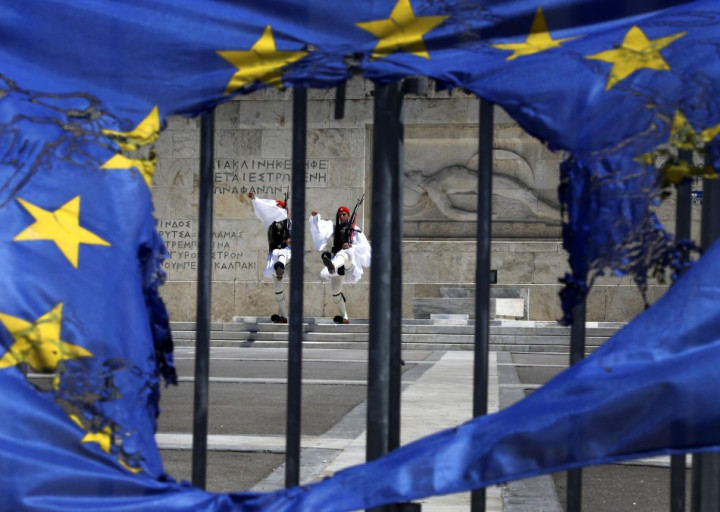 Eurozone leaders will decide later today (Monday) whether to grant Greece the next tranche of its €240bn rescue package on time, as chiefs still remain divided on whether to delay payments, as the beleaguered country has failed to implement a set of reforms.
The Troika - the European Union (EU), European Central Bank (ECB) and International Monetary Fund (IMF) - must decide whether to throw the sovereign debt-hit country its next €8.1bn (£7bn, $10.5bn) lifeline, in light of Greece missing agreed austerity measures.
Although Greece's finance minister Yannis Stournaras has attempted to quell market fears that a deal will not be reached, the country has breached the terms of its bailout deal, by not cutting enough jobs or cutting public spending.
Greece is under pressure to prove it can deliver on austerity measures set out by lenders in order for it to receive its next round of bailout cash.
However, the Greek government has already missed a June deadline to place 12,500 public sector workers into a so-called "mobility scheme", which was to transfer or terminate their employment within a year.
Prime Minister Antonis Samaras' government almost collapsed over bailout-related job cuts at state broadcaster ERT. The crisis-hit nation has agreed as part of its rescue package terms to cut 15,000 public sector jobs by the end of 2014.
ERT's 2,900 employees were sacked on 12 June but further public sector reforms and privatisation plans have been delayed.
Ministers are now also eyeing another option of splitting the next rescue package chunk into further installments in order to force the country to push harder on cuts without risking Greece falling deeper into crisis.
"This is a delicate moment and we cannot drop our guard," said a senior euro zone official involved in preparing the talks, according to media reports.
"Nobody wants a return of the crisis."
Greece is desperate for the next slice of its bailout as it has to pay back €2.2bn of bonds in August this year.
However last week, a senior Greek finance minister source said "it won't be the end of the world," if the country didn't receive its next bailout tranche on time.
"In the worst case scenario we will have to increase the issuance of T-bills, we will delay repaying arrears and it could lead to further cuts to payments."