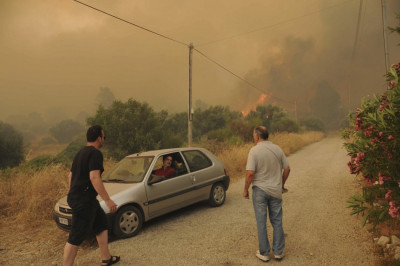 Greece has been struck with a new crisis amid its battle to rescue its crumbling economy, as wildfires swept across the southwest of the country and led to a state of emergency being called.
The fires threatened to hit Patras, the third largest city in Greece, leading to hundreds of homes in the surrounding area being evacuated.
Strong winds and high temperatures created a perfect environment for the flames to spread on three fronts, with the fires getting withint six miles of the city, which has a population of 220,000.
Residents of outlying villages fled from the homes as a precaution as the fires moved closer, while many were driven away by the oppressive smoke. A state of emergency was declared in five of the villages, allowing the government to call in the military if needed.
Apostolos Katsifaras, a regional governor for western Greece, told Associated Press that evacuation orders had been issued for more villages in the area.
He said: "The conditions are very tough we are using everything we have against the fires."
Firefighters pulled out all of the stops to hat the blaze, with seven planes and two helicopters dumping water on the burning pine forests, while volunteers assisted the 170- firefighters working on the ground.
Forest fires are rife in the south west of Greece, especially during ther arid, windy summer months. The last major forest fires in the area killed more than 60 people in 2007.