Loathe them or despise them (and there is no other valid reaction) selfie sticks are all the rage. The camera-extension device – sometimes called the "Narcisstick" or the "Wand of Narcissus" – is a must-have for the selfie-obsessed tourist.
But there is something jarringly anachronistic about seeing people clothed in elaborate historically-accurate Venetian finery using selfie sticks or taking photos of each other with mobile phones.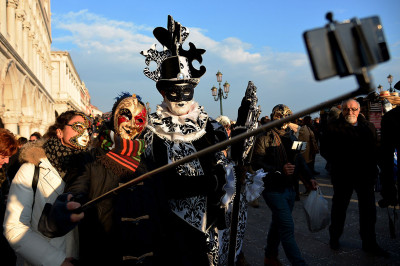 The Carnevale di Venezia is among the oldest carnivals in the world. Carnival madness first began centuries ago as a period of excess before the rigours of Lent, the 40 days of fasting that traditionally precede Easter. Venetians could then hide their identities behind masks and do as they pleased.
This year's Carnival was officially launched on Sunday (8 February) with the traditional 'Flight of the Angel'. The annual spectacle involves a beauty pageant winner dressed in a carnival costume descending from the bell tower of Saint Mark's Basilica.
At noon, Saint Mark's Square was packed, waiting for this year's angel, Marianna Serena, a 19-year-old student of graphic design and communication, to fly down the wire. Dressed in a red and orange gown, she descended the rope from the bell tower, scattering rose petals onto the crowds waiting below.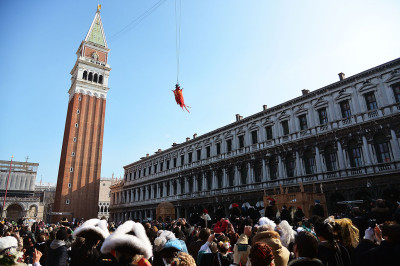 Carnival was first held in Venice in the 11th century and consisted of over two months of revelry, until it fell into decline during the 18th century.
It was revived in 1979 with great success and is now a good excuse for tourists to don a mask and costume and parade around the watery city, posing for packs of professional photographers, fellow tourists and themselves.