Greek islands in the eastern Aegean Sea could face an unprecedented influx of refugees from Turkey in the next few months, with as many as 200,000 people, mostly Syrians and Afghans, ready to make their way to Europe.
Aid workers in Lesbos, one of the five islands where most of the migrants land, told IBTimes UK that many sources indicate that hundreds of thousands of desperate asylum seekers will probably attempt to cross the Aegean in August and September, before the bad weather arrives.
After a recent stall in the figures, the number of landings in Lebsos "are back to where they were 10 days ago, with hundreds of people arriving every day," Kirk Day, the International Rescue Committee's (IRC) local team leader said.
"Today I saw on the route 500 people who arrived in 10 boats. The same number of people arrived yesterday, and the day before yesterday."
Historically, August and September have been the biggest months in terms of arrivals, with most refugees rushing to make the short trip from the Turkish coast in inflatable dinghies while the weather stays warm, until mid-October.
Day said that local sources say a staggering 200,000 people have already paid smugglers in Turkey to make the crossing.
"If we put that in perspective: in the first half of this year there were 124,000 migrants who arrived in Greece by sea," Day said. The figure is an increase of 750% on the same period in 2014, according to the UNHCR.
Worrying figures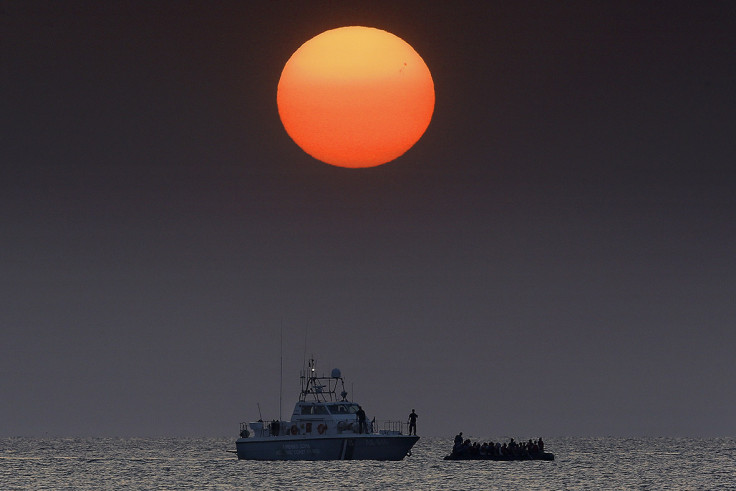 In July alone, there were 50,000 arrivals, about 70% from Syria. Most landed on Lesbos, Chios, Kos, Samos and Leros.
But humanitarian agencies are already worried about what will happen next spring, according to Day. "In the winter, people will forget there was a problem because not as many people will try to cross from Turkey. But in spring, there's every fear and indications that the numbers could be as high as they've been this year, if not higher," he said.
On Monday, Greece's coastguard said it rescued more than 1,400 migrants in 59 incidents near those islands over a three-day period. According to Day, the growing figures highlight the most pressing issues for humanitarian organisations on the ground in Greece.
"We have no idea what are the real numbers in Turkey. Until we have some sense of how many people are ready to cross we cannot have a contingency plan or build sufficient capacity to help these people," he said. Turkey is currently involved in a double offensive against the Islamic State (Isis) and the Kurdistan Workers Party (PKK), with air strikes launched almost every day against those military objects. The country is also facing frequent bombings and killings by Islamist and Kurdish separatist groups.
Desperate to get in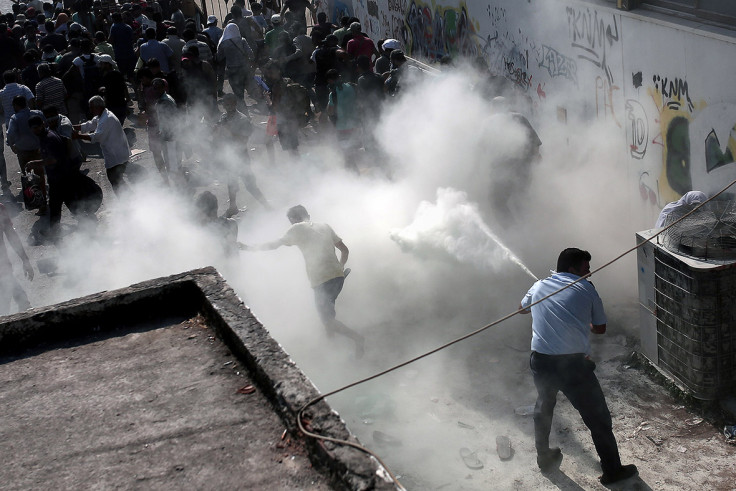 The numbers have overwhelmed Greek police and coastguard officials on the islands, who also have to cope with lack of funds and staff. Greek authorities are often unable to keep up with the new arrivals and process them fast enough.
Earlier in July, the IRC and other aid organisations denounced the dire conditions of the transit Kara Tepe Camp, with scarce or no access to water or sanitation facilities. Today the situation has improved, with the construction of a cleaning canal and the arrival of new water and shower tabs.
However, Doctors Without Borders (MSF), which has conducted health screening and medical checks in the camp hosting 3,000 people, warned that hundreds of people are currently sleeping outside Kara Tepe because it is full.
"These refugees are desperate to get in so they sleep outside the camp, with no food or access to clean water," Sophie-Jane Madden, spokeswoman for MSF, told IBTimes UK. "We are really worried about their health conditions."
From Kara Tepe, the refugees are sent to Moria detention centre, which can hold only 500 people. In there, the asylum seekers can get registered, processed and see doctors. They stay there from two days to a week and then they can catch a ferry to mainland Greece.
But Lesbos is not the only island to face a humanitarian crisis. In Kos, clashes between police and the migrants after an attempt to relocate the latter to a football stadium for registration. Greek police used batons and sprayed fire extinguishers as they tried to sedate the crowd.
On Monday, a policeman was suspended after an AP reporter caught him on camera while slapping one man across the face and holding a knife.
Kos mayor Giorgos Kiritsis told the Greek ANA news agency there "was a risk of bloodshed if the situation degenerates" further. Greek prime minister Alexis Tsipras has said in a Guardian article that Greece cannot cope with the influx of arrival.