Greece has threatened not to accept a cash-for-reforms bailout offer thrashed out by the country's creditors at a hastily convened emergency summit in Berlin on 1 June.
If Prime Minister Alexis Tsipras fails to agree to a deal by 5 June, Greece is likely to default on its loans to its creditors, the International Monetary Fund (IMF) and the European Central Bank (ECB), and find itself outside the eurozone – a dreaded Grexit.
And he flew in to Brussels on 4 June to be told that his proposals for a bailout that would unlock €7.2bn (£5.3bn, $8.1bn) in much-needed aid, had been rejected. Without the cash injection, Greece is likely to run out of money by the end of the month, because it does not have access to the loan market or bonds.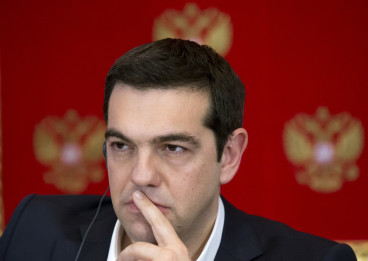 Greece is due to make an initial €300m repayment to the IMF on 5 June, on top of another additional €1.3bn due in two further payments must be made by the end of the month.
A defiant Tsipras urged EU leaders to "accede to reality", saying on the eve of his departure for talks with European Commission president Jean-Claude Juncker: "I am going to discuss the proposal of the Greek government. I am confident that the political leadership of Europe will do what needs to be done."
He cannot be serious
His statement left many EU leaders wondering if Tsipras, the leader of the radical Syriza party, was serious about a deal.
Dutch Prime Minister Mark Rutte accused the Greek leader of political posturing rather than negotiating. "There is no negotiating," he said. "What we have to do is to make clear to Alexis Tsipras that we respect that there is a new government but they have to respect that Greece, as a country, has made certain agreements with the EU and they have to live up to those agreements."
German Finance Minister Wolfgang Schäuble was scathing. "You have to act sensibly, that is what makes the current talks with Greece so tiring," he told reporters. "Syriza succeeded in talking Greeks into believing there is a simpler way to stay in the euro, a way without major reform efforts. Perhaps they shouldn't have made promises like that."
According to the Financial Times, the creditors' terms would "require Athens to run a primary budget surplus — revenues minus expenses, when debt interest is not counted — of 1% of economic output this year".
Athens would also have to embark on a massive pension reform and cut public sector jobs.