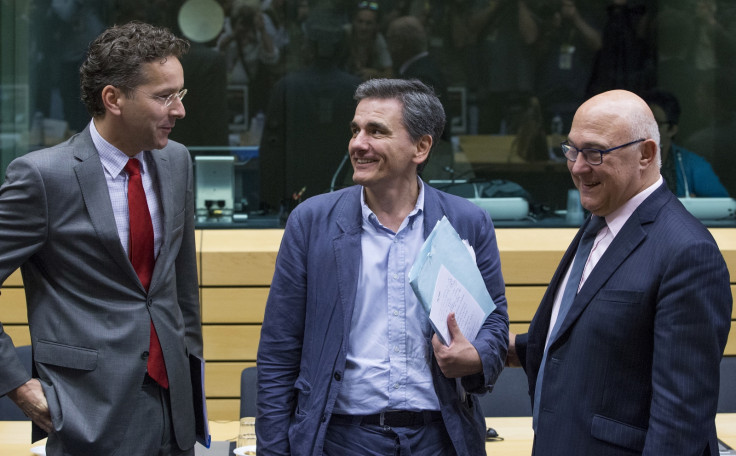 Members of the eurozone gathered in Brussels on 7 July to hear Greece's proposals for the way forward after the country voted to reject a deal to sort out its massive debt.
"We do not have a programme anymore after the Greek referendum," said Wolfgang Schauble, Germany's minister for finance and one of the chief negotiators with Greece. "Without one, there is no possibility for the eurozone to help Greece."
He spoke as ministers from all 19 members of the eurozone arrived in the afternoon to meet with Greece's new finance minister, Euclid Tsakalotos, appointed by Greek Prime Minister Alexis Tsipras on 6 July.
The Greek people voted in a referendum on 5 July to reject a debt relief proposal handed to them by their creditors on 25 June. The country owes a total of €323bn (£230bn, $352.7bn).
A major sticking point for both sides is Greece's request for that debt to be restructured so it does not have large repayments coming, such as the €3.5bn payment it owes the European Central Bank on 20 July.
Lithuanian Finance Minister Rimantas Sadzius called on Tsakalotos to "make things much more clear" about what Greece wants and where it stands. He said: "As a result of the referendum, we have much less clarity than we had before."
"We believe the eurozone should expand rather than contract. Let Greece remain," he added, but insisted that Greece will need to make reforms to get a deal.
Sadzius said there is "always room for compromises" in politics and it is the job of talented politicians to find the best solution "even when everybody doesn't see the light in the darkness".
At the heart of the issue is a contradiction in what the Greek people want and what they are willing to accept, said Luxembourg Finance Minister Pierre Gramegna. He said: "We need to understand how they want to bridge the apparent contradiction" of both staying in the Eurozone and getting debt relief.
"We've expecting a clear suggestion of the Greek government where they want to go," he added. "We need proposals from their side."