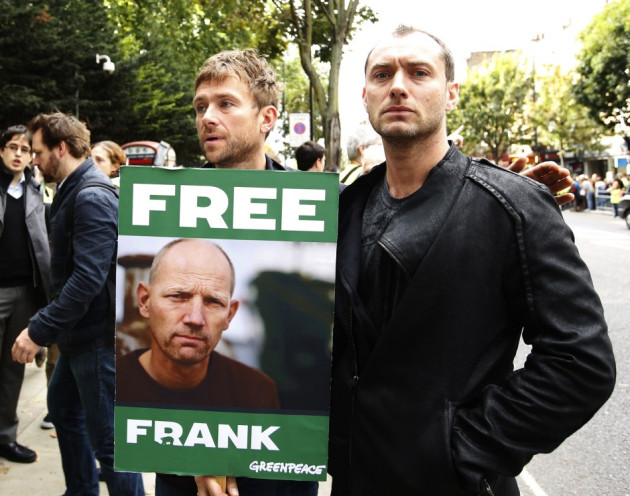 Movie star Jude Law and musician Damon Albarn joined 800 protesters outside the Russian embassy in London on Saturday to demonstrate against the detention of 30 Greenpeace activists seized by Russian authorities as they attempted to gain access to an offshore oil rig.
As protests were being held in cities across the world in a global show of solidarity with those arrested, among them six Britons, protesters in Kensington held aloft placards declaring "Free the Climate Defenders", and "Free The Arctic 30".
The activists were reportedly held at gunpoint when their ship, the Arctic Sunrise, was stopped by coast guards near a rig owned by the state-controlled Gazprom oil company in the Pechora Sea on 18 September. All have been charged with piracy, and are being held in the northern city of Murmansk.
Law and Albarn, who are friends of Frank Hewetson, one of the activists, condemned the arrests. Paul Simonon, a former member of The Clash, also attended the demonstration.
"I am just adding my face and body to the mass of support," actor Law said. "The fact that there is a threat of conviction did not put them off. What is ludicrous is that they have been charged with piracy, which has a threat of 15 years in prison.
"Of course I am worried about Frank because I care about his family and I care about him but I know that he is incredibly durable.
"I think that it is very interesting that the people over there probably knew there would be an arrest involved and the threat of a conviction is probably part and parcel of the act of drawing attention to the drilling in the Arctic, which we all know is an international problem which needs confronting."
The UK citizens held are freelance videographer Kieron Bryan and activists Hewetson, Philip Ball, Alexandra Harris, Anthony Perrett and Iain Rogers.
"It does seem to be a slightly different idea in Russia's collective head about what activism actually represents," Albarn told the Guardian.
"Nine times out of 10 people who protest peacefully, whether it is through music or through trying to scale oil rigs, are doing it because they believe they are saying something that will ultimately benefit society as a whole.
"You have to remember that when the Russian government talks with this kind of rhetoric, it is actually being anti-humanitarian," he continued. "And that is a shame because we put people in power to look after us presumably, but unfortunately rarely do they.
"I want to express my support for Frank, his family and all the other families because at the end of the day this is a very human thing. There are people who are terribly worried about their loved ones.
"Everyone is concerned because it is Russia and they have a very bad record of bowing to international pressure.
"They need to understand that these people are not a threat. This is something that is very human. It is not a political issue."
Today, the Dutch government launched legal proceedings against Russia, saying that two activists from the Netherlands arrested were being detained "illegally".
But Russia shrugged off the challenge, with deputy foreign minister Alexei Meshkov claiming that the Dutch-registered ship was acting "illegally" and the behaviour of the activists constituted a "provocation".
Greenpeace claims the boat was in international waters, and the activists were seeking to raise awareness of the environmental damage in the Arctic circle caused by oil drilling.