Six Greenpeace activists have scaled a Shell rig in the Pacific Ocean in protest against plans to drill for oil in the Arctic.
The group, made up of activists from the US, Germany, Austria, Sweden, Australia and New Zealand, climbed up the 38,000 tonne Polar Pioneer platform while it was docked around 750 miles (1,207 km) northwest of Hawaii.
The six activists approached the rig with inflatable boats and used climbing gear to get on board.
Greenpeace said the group have enough supplies to last them several days, but have no plans to interfere with the rig's navigations or operations.
The rig was being transported across to the Pacific Ocean to Seattle, where it will prepare to drill in Alaska waters by Shell.
"All six people on the ship are experienced climbers in their normal daily lives and have the professional training and equipment needed to climb onto the rig safely without interfering with its operation," Greenpeace spokesperson Travis Nichols said.
The protests comes just a few days after the US Interior Department approved a 2008 lease sale in the Chukchi Sea off Alaska, moving Shell a step closer to returning to oil and gas exploration in the Arctic region following a series of setbacks in 2012.
The group said Shell's plans to drill in the region are a "multiple disaster waiting to happen".
Johno Smith, one of those taking part in the protest, said: "We're here to highlight that in less than 100 days Shell is going to the Arctic to drill for oil.
"This pristine environment needs protecting for future generations and all life that will call it home. But instead Shell's actions are exploiting the melting ice to increase a man-made disaster."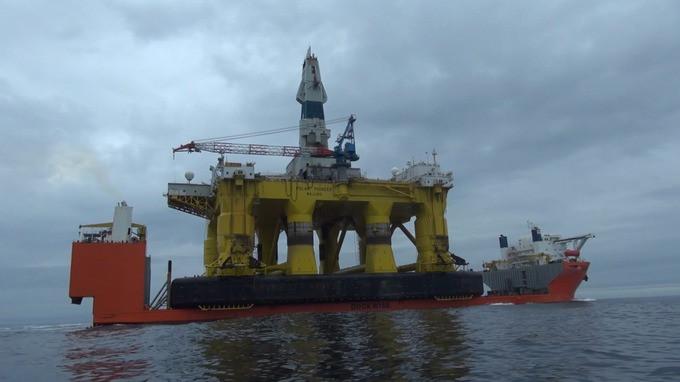 Shell spokesperson Kelly op de Weegh condemned the demonstration.
"We can confirm that protestors from Greenpeace have illegally boarded the 'Polar Pioneer,' under contract to Shell, jeopardising not only the safety of the crew on board, but the protestors themselves," she said.
"Shell has met with organisations and individuals who oppose energy exploration offshore Alaska. We respect their views and value the dialogue.
"We will not, however, condone the illegal tactics employed by Greenpeace. Nor will we allow these stunts to distract from preparations underway to execute a safe and responsible exploration program."