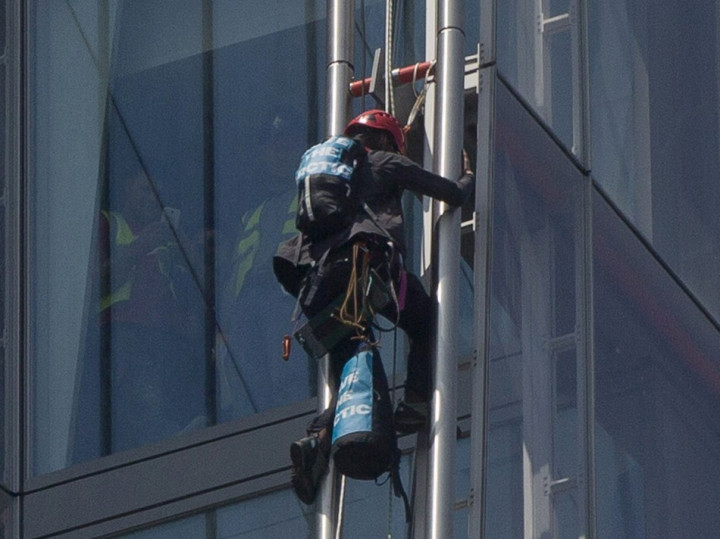 UPDATE 7.12pm: At least one protester got to just 2 metres from the absolute tip of The Shard and unveiled a protest banner.
A Greenpeace protest team of six women climbing to the top of The Shard building near London Bridge has received mixed reactions.
Ali Garrigan, 27, Sabine Huyghe, 33, Sandra Lamborn, 29, Liesbeth Deddens, 31, Victoria Henry, 32 and Wiola Smul, 34, began scaling the largest building in western Europe at around 04:30am today (Thursday) in protest at oil giant Shell's plan to dig for oil in the Arctic.
By mid-afternoon, the group, using only ropes and harnesses, was two-thirds of the way up the 310m (1,016ft) structure and were expected to take several more hours to reach the summit.
At the top, they planned to hang a banner that would capture the "beauty of the Arctic".
As well as the hundreds of onlookers who gathered to watch the slow ascent from the ground, Greenpeace also ran a live-video of the climb, with additional messages of support from fellow activists and supporters.
On the savethearctic website, people from around the world expressed support. One wrote: "Thank you for your courage and example to all women and activists everywhere."
A second person added: "Please please keep doing what you do. This planet needs good people like yourselves."
Celebrities such as Thom Yorke, Annie Lennox and Ewan McGreggor added their praise on Twitter.
Here's an example of risking life and limb for a cause you believe in…Show your support by sharing #iceclimb http://t.co/AJIpSxx3Nc

— Annie Lennox (@AnnieLennox) July 11, 2013
Check out the live stream on http://t.co/XX484iddcU Greenpeace protest against Arctic drilling by Shell. Amazing bravery. — Ewan McGregor (@mcgregor_ewan) July 11, 2013
Critics called the protest a dangerous stunt.
Deputy prime minister Nick Clegg spoke out against it on his weekly phone-in show, Call Clegg, on London's LBC radio.
He said : "It looks extraordinary on the telly but I don't actually support them. It is going to tie up a lot of police time. It is obviously quite dangerous and I really do think they could get their point across to the companies in a different way."
One critic, with the Twitter handle @LadyDurrabnt, tweeted Prime Minster David Cameron: "I hope you are going to make sure these Greenpeace protesters foot the bill and are charged for this pointless stunt."
The Shard management said: "These guys have been on the go since four this morning. They must be absolutely shattered.
"It's freezing cold in the wind and then the sun hits you. When you are extremely tired that makes it extremely dangerous."
The spokesperson added that they closed the viewing platform near the top of the building to the public as they believe that will be the area they use to get the group back into the building.
The Shard idiots have an ambulance on standby. Ludicrous given pressure on services. Someone might die as a result of their selfishness.

— Mavis Cruet (@londonistar) July 11, 2013
Shell said: "Recognising the right of individuals to express their point of view, we only ask that they do so with their safety and the safety of others, including Shell personnel and customers, in mind."
Police said it would be too dangerous for officers to attempt to climb up the 87-storey building to apprehend the protesters. All six are expected to be arrested when they return to the ground.