Tests to three relevant tower blocks in the wake of the Grenfell fire have revealed that they are clad with "combustible" material, Theresa May announced on Thursday 22 June. The prime minister, addressing MPs in the House of Commons, said the investigation had been launched in the wake of the west London incident, which left at least 79 dead and 151 homes destroyed.
Downing Street later announced that 600 high-rise flats had "similar" cladding to Grenfell, with investigations ongoing to discover if the materials were combustible.
"Shortly before I came to the chamber I was informed that a number of these tests have come back as combustible," May said. "The relevant local authorities and fire services have been informed and, as I speak, they are taking all possible steps to ensure buildings are safe and to inform affected resident."
The prime minister said the Department for Communities and Local Government would contact MPs if their constituents live in towers with the combustible material. "We cannot and will not ask people to live in unsafe homes," she added.
May also said it was "right" that Nicholas Holgate resigned as the chief executive officer of Kensington and Chelsea Council, while she reiterated the government's plan to establish an independent judge-led inquiry into the Grenfell Tower fire.
"No stone will be left unturned in this inquiry and for any guilty parties there will be no places to hide," she said. The government has offered to pay for the legal costs of residents.
Elsewhere, the prime minister said the authorities would not carry out immigration checks on victims, in a move to encourage illegal immigrants to come forward so they can access the services that they need.
May also stressed that no residents were being forced to move anywhere they did not want to as the government seeks to re-house the victims. "If any honorable member knows of anyone treated this way, contact my office," the prime minister said.
The developments come after the government set-up a £5m discretionary fund to provide £5,000 grants via the Department for Work and Pensions to victims.
The government said work is currently ongoing to re-house all residents who have had to leave their home and 68 permanent social housing units have been made available along with more than 160 temporary units.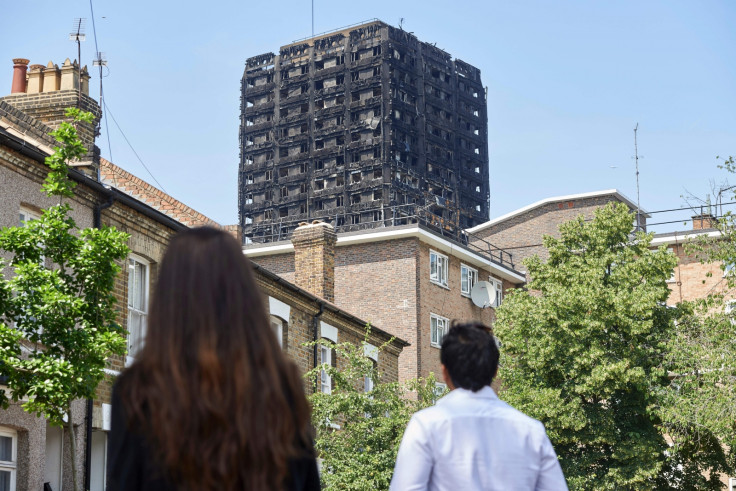 Communities Secretary Sajid Javid said: "The residents of Grenfell Tower have been through some of the most harrowing and traumatic experiences imaginable and it is our duty to support them.
"Our priority is to get everyone who has lost their home permanently rehoused locally as soon as possible, so that they can begin to rebuild their lives.
"The government will continue to do everything we can as fast as we can to support those affected by this terrible tragedy."
But some protesters took to Parliament Square, Westminster, on Wednesday evening to demonstrate against the government's response to the fire.
Meher, 16, who lives in Westminster, told IBTimes UK: "The main message here today to Theresa May is that we need her out. This country is in a crisis, there's too much going on for us to ignore – the London Bridge attack, the Finsbury Park mosque attack. They are not paying as much attention as somebody like Jeremy Corbyn.
"I feel May's reaction to Grenfell wasn't much like a prime minister would do. Somebody like Corbyn actually physically went up to the victims and spoke to them, whereas Theresa May just went over to the emergency services. She's not much of a leader."