Nick will continue to struggle with his new-found identity of just being a normal cop with no special powers, this season.
In episode 3, Nick is forced to bring Trubel into his investigation, on a boxing club and a prodigy, as his Grimm eyes. In the last episode, Adalind teams up with her creepy next-door dungeon neighbour and escapes, Nick learns about cone cells, and a bull-like Wesen called a Heftigauroch is introduced.
Also, Monroe and Rosalee take the help of Renard's mother Elizabeth, who is a Hexenbiest, in figuring out a cure for Nick.
The trio start investigating in Adalind's storage unit, where she apparently mixed the potion. They find the spell book, and Elizabeth fortunately can reverse the curse, so they head to the Spice Shop. She later confirms that the spell linked Adalind and Nick together in "unpredictable ways."
Meanwhile, Wu and Juliette encourage Nick to see a doctor about the headache, when he could see through Adalind's eyes.
The doctor tells Nick that "most people have three cone cells in the back of each eye, but in some rare instances, people have more."
It turns out a person having four cone cells (tetrachromat), can see more colours than people with three, and Nick has four, or maybe even five different cone cells (explaining his Grimm powers).
The ophthalmologist asks him if he sees the world differently from others, and also shares that there is a swelling in the area that could be preventing light from triggering Nick's extra cones (because of the spell used by Adalind in Season 3).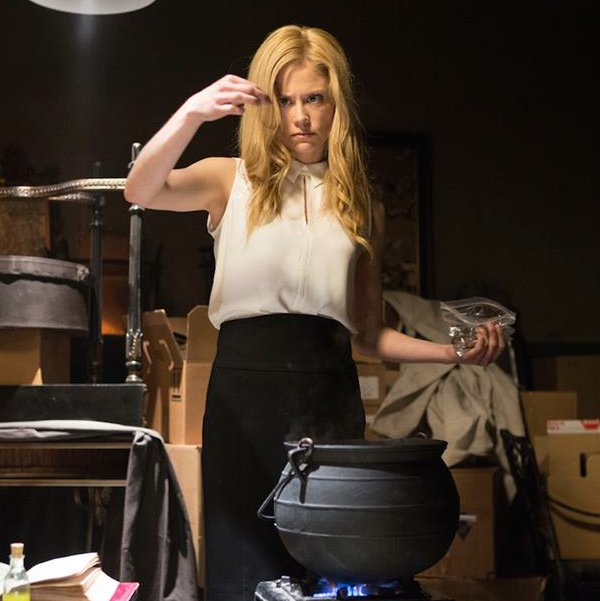 Claire Coffee, who plays Adalind's character, revealed more about Nick and her connection in Season 4.
She told Tvline: "It links them in a way that's going to be explosive come Episode 8. It resolves itself in quite a treacherous way and it has massive implications for a couple of the characters."
"I keep thinking all the Adalind haters are going to be super-excited at what transpires at the beginning of the season," Coffee added.
Going by episode 4's synopsis, there is still hope for Nick to be re-grimmed, and a surprised Adalind has managed to escape from the Royals and is back in Portland.
The episode is titled 'Dyin' on a Prayer', and the synopsis reads: "At the Spice Shop, Elizabeth (guest star Louise Lombard) makes a major breakthrough with regards to restoring Nick's powers, while Monroe (Silas Weir Mitchell) and Rosalee (Bree Turner) experience cultural backlash as a result of their inter-Wesen marriage."
Also, there is moral dilemma for the couple as Juliette has requested Monroe and Rosalee to stop looking for a cure.
Grimm Season 4 airs on Friday nights on NBC.