Grimm season 5 returns with Nick mourning his recently diseased girlfriend, Juliette, and frantically looking for Trubel who has been kidnapped. Adalind gives birth to Nick's baby, who transforms her as she tries to live a relatively normal life.
A TV Guide report stated that Adalind (Claire Coffee) will give birth to her love child with Nick (David Giuntoli), which is an awkward situation for both of them to be in. However, Adalind is determined to be a better mother this time around. Fans know that her first baby with Captain Renard was kidnapped and is still missing.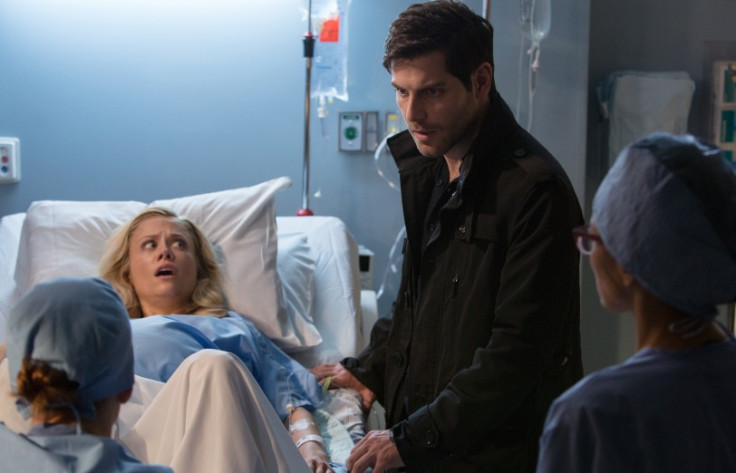 According to the report, the Hexenbiest will go to "surprising lengths to live a relatively normal life with her baby daddy and half-Grimm, half-Hexenbiest child."
A new promo shows Juliette's funeral as the entire team including Nick mourns her death. Another sneak-peek shows Nick calling Monroe in panic and asking if they have seen Trubel. No, replies Monroe, and asks, "Are you okay? Whats wrong?"
Nick tells Monroe and Rosalee, "Juliette is dead. They took her body. They grabbed Trubel and my mom's head. I don't know what the hell is going on. I've got to go."
A shocked Rosalee cannot believe that Juliette is dead, as an equally shocked Monroe says, "What the hell!" The video shows Nick pacing through the house looking for clues to find out what exactly happened.
According to a report in TVline, fans will see Monroe's uncle, a German named Felix Dietrich in the NBC series. His character is described as "bespectacled, bookish [and] slightly off-center."
The actor will show up in the United States to ask for Monroe's help. "In the course of his work as an antiquarian bookseller, Felix will come across some very old volumes about Grimms — which is helpful, considering Juliette destroyed a lot of that kind of thing when she torched the trailer — then find himself followed by those who are willing to kill in order to secure the books," said the report.
The synopsis of the premiere episode reads as follows:
In the wake of his mother's beheading and Juliette's death, things have never been more chaotic for Nick (David Giuntoli). Having lost so much, Nick must dig deep and decide what type of person he wants to be, while also coming to grips with fathering a child with his once sworn enemy, Adalind (Claire Coffee). His search for the truth leads him to FBI Agent Chavez (guest star Elizabeth Rodriguez) and puts him at odds with those close to him. Russell Hornsby, Silas Weir Mitchell, Sasha Roiz, Reggie Lee and Bree Turner also star.