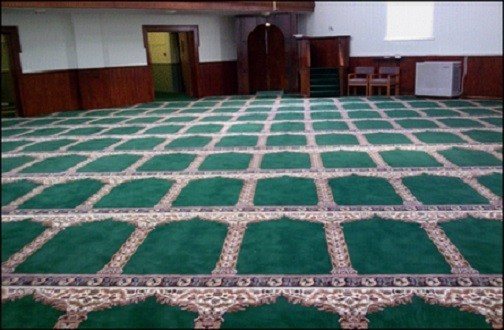 Two men have been charged with arson with intent to endanger life following an attack on a mosque in Grimsby.
Stuart Harness, 33, and Gavin Humphries, 37, were arrested after a fire broke out at the Grimsby Islamic Cultural Centre on Weelsby Road, which was allegedly attacked with petrol bombs on 26 May.
CCTV footage appeared to show three petrol bombs being thrown over the gate of the building, one of which landed by the door. Police said no one was injured in the fire.
The chairman of the mosque, Diler Gharib, was inside the building at the time of the attack. He told the Grimsby Telegraph: "We had just finished our prayers and were discussing how to thank our neighbours for the support they have shown us over the past few days when we heard a bang and saw fire coming under the door.
"I grabbed a fire extinguisher and put it out and then two more petrol bombs hit the fire escape and the bin so I had to put those out too."
The centre was previously under attack from vandals on 23 May, three days before the petrol-bombing incident. On that occasion, police arrested 11 individuals following reports of youths causing damage to several parked vehicles and also a Mosque.
Humberside Police said it was too early to suggest if the two attacks were linked and are continuing to investigate.
The first attack on the mosque came on the same day as soldier Lee Rigby was murdered by suspected Islamic terrorists in Woolwich.
The drummer's death has brought a backlash against muslims, manifest in a sporadic series of attacks on mosques.
On the evening of the murder, two men were arrested for separate attacks on mosques in Braintree, Essex and Gillingham in Kent.
Faith Matters, an organisation that works to reduce extremism, said that since Rigby's murder there have been 162 hate incidents reported against muslims, up from a daily average of four to six.
Chief supt Tony Forbes, of Humberside Police, said: "The immediate response by officers to both incidents at the mosque on Weelsby Road in Grimsby led to a number of arrests being made quickly, and investigations are underway by detectives from Grimsby Police Station.
"I would like to remind people that these are serious offences which are being investigated and those who are responsible will be brought to justice.
"It is important to remember that those people who have committed these offences are a very small minority and they do not reflect the vast majority of people who live in north east Lincolnshire.
"The people who want to engage themselves in this type of criminal activity will be dealt with using all appropriate police resources and powers.
"I have spoken to community leaders and what is clear to me is the attacks will not be allowed to undermine the very good community relations in North East Lincolnshire. My officers will continue to work with all of our communities to protect them and ensure their safety."