Police in Ohio are on the hunt for a villain who not only stole a victim's car, but also ran him over in the process. The incident took place at a petrol station in Toledo, Lucas County on 30 August.
It is not clear what condition the car's owner was left in, but CCTV footage shows him being crumpled underneath the front wheel as the car reverses away at speed.
He barely moves for a full 30 seconds after the collision, at which point the footage ends.
The victim parked up at the gas station on Hill and McCord just before 6pm and headed into the shop. He appeared not to lock his front door and may have left his keys in the ignition.
He had been inside for around 10 seconds when the suspect emerged onto the forecourt and entered the car on the driver's side.
Within seconds, the victim rushed out to apprehend the criminal, but it was too late. He tried to open the car door but criminal had locked it and was already starting the engine.
The car reversed away at speed with its owner still desperately clawing at the front door. As the vehicle turned, the front left wheel went over his leg and he was dragged under the bonnet, which appeared to make a serious impact with his face.
The carjacker sped away with the victim writhing in agony. It was a wince-inducing scene that will likely have left the victim in a serious condition.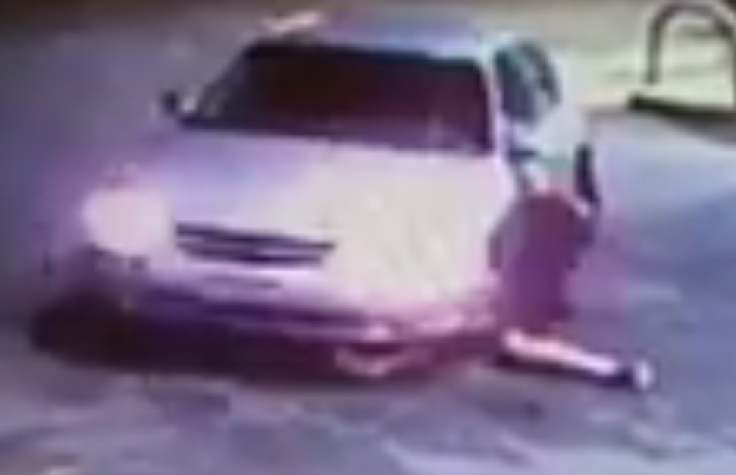 Now the want to identify the blue jacket-wearing suspect. They released a video of the carjacking on their Facebook page. It was shared over 4,000 times within 20 hours
In a statement, the Sheriff's Office said: "Attempt to Identify: The Lucas County Sheriff's Office is attempting to identify this subject stealing the victim's vehicle and running him over in the process. The incident occurred on August 30th, at approximately 5:45 a.m. @ Hill and McCord. If you have any information please contact the Lucas County Sheriff's Office at 419-213-4941 or Crime Stopper at 419-245-1111."