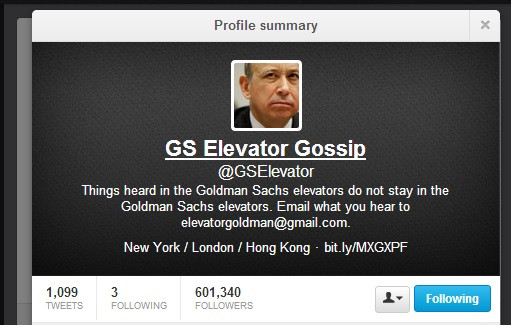 The mystery tweeter behind the hugely popular profile GSElevator has been given a book deal for an undisclosed amount.
The Goldman Sachs insider will be penning a tell-all book about the behaviour of employees of the firm after gaining a mass following on Twitter.
The user, known only as JT Stone has amassed over 600,000 followers over the last three years by tweeting conversations overheard in the elevator of Goldman Sachs offices in London, Hong Kong and New York.
IBTimes UK looks at some of the best fictional Twitter profiles tweeting to the masses.
@Lord_Voldemort7 The Dark Lord Voldemort has over two million followers and, as Harry Potter's arch enemy, tweets messages relating to current affairs with Potter references littered throughout.
@Pippatips Not Pippa Middleton started tweeting a string of helpful tips about how to do all the important things in life such as host parties following the publication of real Pippa Middleton's books. The user reportedly ended up getting in a legal dispute with the real sister of Kate Middleton, forcing the mystery tweeter to make it clear it is a parody profile.
@Number10cat Larry the Cat is the parody account of David Cameron's rescue cat he adopted from Battersea Cats & Dogs Home almost three years ago. Often scornful of the prime minister and George Osborne's feline Freya, the Twitter user has more than 36,000 followers.
@SoVeryBritish VeryBritishProblems has over 600,000 followers and looks at the classic problems people across the UK face on a daily basis. Since launching on Twitter, the profile, run by Rob Temple, became such a success a book of British problems was released at the end of last year.
@surisburnbook Suri's Burn Book is a parody account of Suri Cruise, the daughter of Katie Holmes and Tom Cruise. Based on the 'burn book' from the film Mean Girls, Suri writes down lots of mean things about other celebrity children, with particular attention to Blue Ivy, Harper Seven and North West.
@YesYoureRacist YesYoureRacist was set up by Logan James at the end of 2012 and now has almost 45,000 followers. He retweets tweets that start 'I'm not racist but': "If you have to start a sentence with 'I'm not racist, but...' then chances are you're pretty racist," his profile says.
@maggiemay_hem Maggie May is the Twitter profile of Andy Murray's dog. Set up by the Tennis player's girlfriend Kim Sears, Maggie tweets about her life with Murray, Sears and their other pet dog Rusty.
The following two profiles are not parodies, but have been given a special mention.
@JamesBlunt James Blunt, formally known for his hits such as You're Beautiful and Goodbye My Lover, has become widely recognised for his Twitter comebacks to people trying to put him down. His responses became so well regarded, several news websites said 2013 was the year that James Blunt won Twitter.
@AndrewWK Andrew WK of Party Hard fame has gathered over 260,000 followers on Twitter thanks to his tweets informing others on how and when to party.