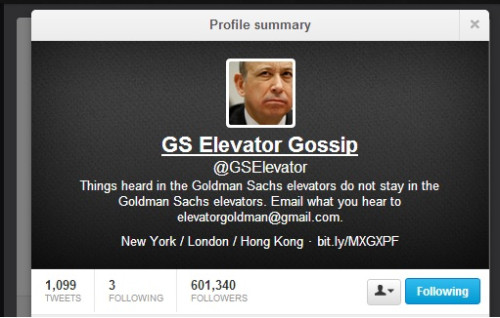 The author of the @GSElevator Twitter account has sealed a book deal with Simon & Schuster to write an exposé on Wall Street giant Goldman Sachs.
One of the 'big four' publishers is aiming to release the book for October 2014 and is tentatively called Straight to Hell: True Tales of Deviance and Excess in the World of Investment Banking.
"[The upcoming book is intended to be] the definitive exposure of investment banking culture, shedding new light on a world that is far more abhorrent, and yet, way more entertaining than people can imagine," said the anonymous author in a document seen by the Financial Times.
The book will be published under the pseudonym J.T. Stone.
Since joining the social network site in August 2011, @GSElevator has gathered more than 600,000 followers by tweeting conversations overheard between Goldman Sachs employees in the lifts of the company's buildings in London, Hong Kong and New York.
It is not yet known how genuine the tweets are, as they come from an anonymous source but the deal is aimed at turning his insider observations into a tell-all book.
Goldman Sachs declined to comment on the Twitter account and the book deal.
Simon & Schuster did not respond with further comment by the time of publication.
Here are some examples from the @GSElevator Twitter account:
#1: Poor people eat so much fast food you'd think their time was valuable.

— GS Elevator Gossip (@GSElevator) September 24, 2013
#1: Build 1,000 bridges, and no one calls you a bridge builder. But, suck one cock....

— GS Elevator Gossip (@GSElevator) September 14, 2013
#1: Poor people eat so much fast food you'd think their time was valuable. — GS Elevator Gossip (@GSElevator) September 24, 2013
#1: Whenever something says, 'The first black, the first latino, or the first woman', it just means a white guy did it first.

— GS Elevator Gossip (@GSElevator) July 9, 2013
[At the gym] #1: What machine should I use to impress the girls? #2: The ATM. — GS Elevator Gossip (@GSElevator) July 31, 2013