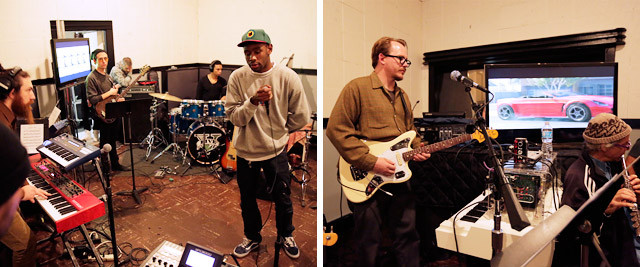 Rockstar announced earlier on Tuesday that it will be adding more music to GTA 5's multiplayer mode, GTA Online.
Brand New Musical Score Updates Coming
"As part of the ongoing content updates and evolution of the Grand Theft Auto Online experience, we're also adding to the already massive original musical score that is heard exclusively Online", said the developer on a blog post.
"Modes such as Survival, Deathmatch as well as your own custom-made Creator Jobs will all be complemented with an updated range of never-before-heard unreleased instrumental music from the original scoring sessions by Tangerine Dream, Woody Jackson, Alchemist and Oh No."
Rockstar even served up a sample of the "new instrumentation that you can expect to hear that will be added to the game next month." Listen to it below.
Piece by Electronic Musician
Rockstar also went on to highlight the fact that Electronic Musician, a respected modern music production magazine, is focusing on the original soundtrack of GTA V for its March issue cover story. Below is an excerpt from the six page piece.
"Composers were assigned to each of the game protagonists to create their signature scores. Tangerine Dream's Edgar Froese created De Santa's score, Alchemist and Oh No for Clinton's score, and [Woody] Jackson created Philips' score.
"But the music heard at any point during the course of the game or on The Score disc is an amalgamation of the composers' sounds in a true collaboration. The score kicks in when a mission starts; it is delineated from the radio station music by shifts in action such as getting out of the car and having a conversation with another character. The score reacts to gameplay throughout the mission: Eight music stems function as tracks within a song..."
Do you have a soundtrack from GTA 5 that you love? If so, let us know in the comments below.