Rockstar is celebrating the release of its new DLC: I'm not a Hipster update with a weekend festival bonanza starting 20 June through 22 June.
The special weekend event promises tons of in-game rewards, exclusive unlocks and numerous ways to earn quadruple money (GTA$) and RP through in-game competitions and giveaways in GTA Online.
Rockstar has scheduled a bunch of competitions and live-stream events to keep you busy through this weekend from Friday to Sunday, as you stand a chance to unlock three exclusive vintage t-shirts just by participating in this event on all three days.
The t-shirts once unlocked will be yours to keep for free which can be acquired from clothes stores and also via your inventory as a wardrobe option.
---
Exclusive Unlockable Vintage Tees for Your Character
20 June (Friday): Unlock the classic Bitch'N Dog Food tee by participating in the event on this day. The tee is named after your favourite pet food brand since your Halycon days in Liberty City.
21 June (Saturday): You get to unlock the Vinyl Countdown tee for participating in the event on this day. The tee is designed for the music-buffs who want to dictate their unique style.
22 June (Sunday): Grab the Homies Sharp tees for your effort, which will be the perfect attire to ride out with your crew in Los Santos.
As Rockstar notes, this will be your exclusive chance to win any of these tees just be playing in the event on all three days. There will not be a second chance if you miss out this opportunity.
---
Double the Cash (GTA$) with "I'm Not a Hipster" Event Playlist
Participate in new challenging jobs added in the I'm Not a Hipster update to earn exclusive double GTA$ this weekend.
The event playlist is accessible via Start Menu > Online Tab > Playlists > Rockstar Created Jobs and select I'm Not a Hipster Event from the list in GTA Online.
---
Earn Triple RP for Enemy Kills and Quadruple GTA$ in Gang Attack Crates
Face off some nasty gangsters across Mirror Park, Chumash and East Vinewood areas as you show-off your new attire in skin-tight jeans. The gangsters seem to hate anyone dressed in "too-tight" jeans, while it's your right to protect your individualism by waging an all-out war against the rebels.
Earn triple RP for each enemy kill and quadruple GTA$ bonus to be found in Gang Attack Crates as you accomplish the mission of clearing out gang infestations.
---
Double RP for Kill Streaks and Headshots in Deathmatches
Go for the headshots as you massacre your enemies for a kill streak bonus. You get double RP for kill streaks and headshots.
---
Betting Metre Raised to GTA$10K for All Jobs
Earn more cash rewards as you bet on yourself or another player, while performing a job in GTA Online.
---
Event Crate Drops
Watch out for huge crate drops falling from the sky with tons of RP bonuses, GTA$ stacks, heavy-duty RPGs, miniguns, sticky bombs and more that could be a game changer as you fight your way through tight corners of Mirror Park.
---
#IMNOTAHIPSTER Snapmatic Contest
Gamers are invited to submit their most creative and artistic snapshots for the I'm Not a Hipster update by logging into Rockstar Social Club during the weekend event between Friday and Sunday.
Selected snapshots will fetch GTA$1m reward, and a HIPSTER vanity license plate for the contestant's vehicle in GTA Online. The theme of the costume artwork in snapshots should convey the message that you are seriously not a hipster.
Register your valid entries via Social Club by tagging the snapshots as #IMNOTAHIPSTER to qualify for the reward scheme.
Check out the complete list of rules and eligibility criteria here.
---
#IMNOTAHIPSTER Creator Competition
Make use of the content creator tool in GTA Online to craft your own standout jobs including Races, Deathmatches and Captures featuring new vehicles and weapons in the I'm Not a Hipster update. Jobs that qualify for Rockstar Verified Jobs selection will win a reward of GTA$1m and the HIPSTER vanity plate.
You need to hurry up as the reward program is valid only until midnight on Sunday, 22 June.
For more details on rules and eligibility, click here.
---
Where to Watch Event Weekend (Live Stream)?
Catch the live stream broadcast for I'm Not a Hipster weekend event via Social Club Multiplayer Events page, official Rockstar games Twitch.tv channel and Rockstar YouTube channel starting Friday, 20 June from 4 to 6pm.
The live-stream will highlight playthroughs of new Jobs, special challenges and live gameplay coverage with select members GTA Online community and special guests.
---
I'm Not a Hipster" Merchandise: Giveaway Sweepstakes
The weekend event also features five exclusive prize packs, including Los Santos Trucker Hat, Republican Space Rangers and Trevor Philips Industries Tees and the GTA 5 Zippo Lighter.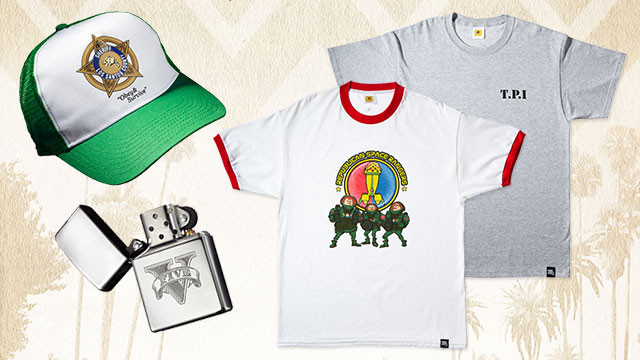 Ten runners-up will be eligible for an official t-shirt and stickers as part of Rockstar's prize packs giveaway sweepstakes.
Interested gamers can register for the sweepstakes until 22 June midnight via http://socialclub.rockstargames.com/events.