Rockstar Games' critically acclaimed open-world game of the year, Grand Theft Auto 5 (GTA 5), finally looks like debuting its PC release as Amazon France recently listed the game for PC platform on its pre-orders page.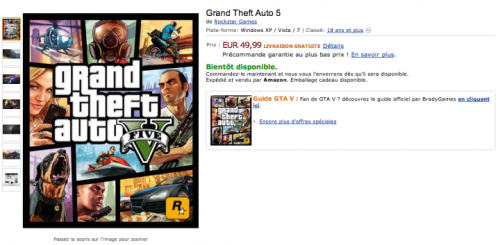 The pre-order page for PC version now seems inaccessible, as it throws up an error message saying: "Sorry, the offer you are looking for is no longer available. To return to the results page, please repeat your search. We apologise for the inconvenience" (see screenshot below).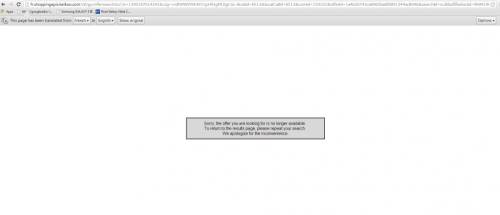 PC gamers worldwide have been anxiously waiting for the game to release on Windows ever since its console version released in September. However, Rockstar is tight-lipped about the game's PC release date and announcement.
The game developer is still unavailable for comment on the sudden development with pre-orders for GTA 5 PC version going live on Amazon France.
Nevertheless, the game retailer has a consistent track record of revealing information on upcoming and unannounced game titles with precision as in the case of Call of Duty: Black Ops 2, Splinter Cell and Prince of Persia.
The pre-order price for GTA 5 PC version is £41 (€49.99) on Amazon France and the game is likely to hit PC platform in the next few weeks.
Several rumours are projecting the GTA 5 PC release for March 2014, while the Brazilian retailer Nuveem recently confirmed its release date for 12 March. Intel chip marketing director, Chris Silva, also hinted recently that PC version of the game would be released soon, in an exclusive interview with PC Gamer.
Here is what Chris Silva stated during the interview:
"At least with Grand Theft Auto I don't think it'll be console exclusive very long. But that's what happens when you have a brand new launch with two companies that have lots of money trying to make sure they have content."
Discerning GTA fans have been eager to test mods and other DLC content on the PC platform, and the ensuing online petition to reconsider PC release for GTA 5 has gained momentum with more than 650,000 signatures recorded on Change.org till date.
In addition, a 150-page bug log report revealing development of PC version has leaked online, which reiterates the game's PC release is imminent. Consequently, Rockstar is expected to formally announce the PC release for GTA 5 anytime soon.