Rockstar Games has just announced exclusive Black Friday weekend discounts for Turkey Shoot merchandise as well as Black clothing and accessories in Grand Theft Auto (GTA) 5 Online. The holiday weekend discount offers start on Friday, 28 November at 12:01am EST and end at 11:59pm EST on Monday, 1 December.
The exclusive deals with Turkey Shoot and Black Friday Sale are part of Rockstar's goodwill gesture for the celebration of Thanksgiving Day. The Turkey Shoot merchandise includes a whole range of Hunting Rifles and an assortment of Rifle Attachments and Rifle Ammo, which will be sold at 50% discount on its in-game price.
Avid GTA 5 fans may choose to customise their arsenal and select their favourite weapon among Assault Rifle, Carbine Rifle, Advanced Rifle, Heavy Sniper and Sniper Rifle. The freedom to choose your weapon for every bounty mission should give you the winning edge in the crime infested Los Santos.
"After you've recovered from gatherings with dysfunctional family members, participating in unplanned scuffles in department stores over drastically discounted kitchen appliances and engaging in wanton acts of mass poultry consumption, sneak back to Los Santos where a host of GTA Online items will be discounted this holiday weekend," teases Rockstar Newswire.
In addition, discerning gamers would be spoilt for choice given Rockstar's generous discounts on Black clothing and accessories as part of special Black Friday Sale offers. The colour-coded discounts on any item in Black, is something unique for the Thanksgiving occasion.
Here is the complete list of GTA Online clothing and accessories that will be offered at 50% off on the in-game price:
Select Black Colored Clothing & Accessories: jewelry, ties, shirts, vests, jeans, pants, board shorts, dresses, skirts, chinos, shoes, flip-flops, cargo pants, t-shirts, tracksuits, tank tops, hoodies, polo shirts, skate shoes, oxfords, boots, masks, ear defenders, hats, beanies, bandanas, helmets, glasses and much more.
Select Black Colored Vehicle Modifications: window tinting, black tire smoke and black license plates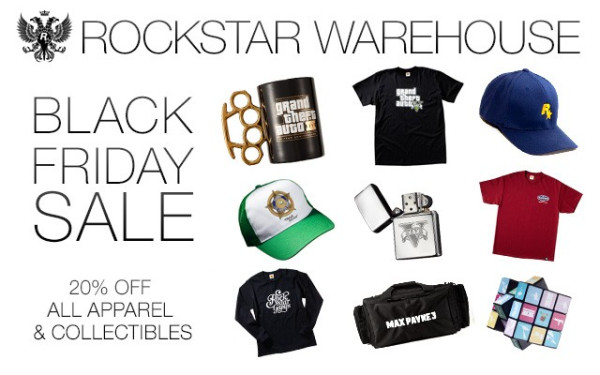 That is not all... Rockstar is offering special 20% off on all apparel and collectibles on its Warehouse as part of its annual Black Friday Sale. The offer includes all the latest GTA 5 gear such as Zippo Lighter and Bugstars Logo Tee.
Besides these, a complete range of classic titles like Red Dead Redemption and an entire inventory of Rockstar Games branded shirts and apparel are at stake. The special offers will be applicable just for the holiday weekend from 28 November to 1 December.
Also Read: Black Friday 2013 UK: Apple's European Stores Go Live with Discounts and Not Gift Cards