Rockstar's Grand Theft Auto 5 (GTA 5), is poised to become the biggest selling game of the year, having earned over $1 billion in its first three days on sale. GTA 5's strength lies in its ability to give the player an expansive open-world for off-campaign activities and side-missions.
Though the game offers uninhibited freedom to roam and explore uncharted territories for hidden treasures, weapons and fast cars, it is easier said than done. Some earmarked areas of the map are restricted against unauthorised entry, and might easily attract the wrath of cops and military, if the player fails to tread cautiously.
IBTimes UK brings you a comprehensive guide with gameplay tips and tricks, spoilers, and cheats for unlimited money, health and free vehicle repairs to give you a head start into the game and make your stay comfortable around Los Santos and Blaine County.
Explore the Open-world a Bit Late into Game
The mini-map in the game shrouds most parts of the map with "fog of war" when you begin the game. The campaign missions restrict your exploring opportunities until you have invested at least a couple of hours playing the two in-game characters.
After about 3-5 hours into the main story, the third game character unlocks. Once the three characters Franklin, Michael and Trevor are accessible, it gets much easier to explore the map as you can exploit each of their special abilities such as boosting cars, bullet-time (slow-motion) ability for sharpshooting and rage mode for maximum damage with weapons.
In-Game Smartphone as Shortcut for Useful Services
Get help with emergency services such as fire, police or ambulance at your fingertips via the in-game smartphone. Check out call-up utility services like Downtown Cab Co, a taxi service that can zip you from one corner of Los Santos to another in less than a minute.
Given your small budget at the start, you may prefer to wait until you earn a few thousand dollars - or use our tricks and cheats for quick bucks (below).
Browse the internet via the in-game phone and find luxury services that sell fast sports cars, luxury boats, helicopters and planes custom-built for you. Tip: Don't forget to visit Vinewood if you are short on money and want to steal a badass sports car for free.
Discover Rockstar's Hidden Secrets in Epsilon Program
Browse the Epsilon Program's website via in-game smartphone to discover the hidden secrets of Rockstar's Church of Scientology in Los Santos. Spoiler: This will unlock a special set of side missions.
Pick and Play Your Favourite Character for Every Mission
With each game character holding their own special ability, it makes sense to choose between Michael, Franklin and Trevor via the in-game swap mechanic based on your mission needs. Pick Franklin to boost cars, and help you escape the cops after a heist.
Franklin's superhuman driving skill is your best bet during getaways, as he can make last-minute turns and perform drive-by kills while shooting in slow-motion.
Michael's absolute bullet-time ability makes him a sharpshooter with sniper rifles. He is your best bet to take out key members of an enemy gang silently.
Trevor brings you the special power of frontline soldier with his ability to deal maximum weapon damage in his rage mode. He also takes less bullet and weapon damage until his skill meter runs out. This makes him a great choice for dealing with enemy gangs in large numbers.
Keep Franklin's Pet Close
Franklin's pet dog, Chop, could be more than handy as your escort and bodyguard in crime-infested Los Santos. The dog's special ability to sniff out hidden objects such as spaceship parts and pieces of 50-page murder confession will surely help in finding the hardest collectibles around Los Santos.
Tip 1: Take your aim at a person or enemy the way you do while shooting and Chop will attack the targeted person to kill him instantly. This feature won't work well in groups or against cops, so use it wisely. You wouldn't like to sacrifice a loyal dog anyway.
Tip 2: Improve Chop's behaviour and response skills via Rockstar's free iFruit app for your phone (currently available for iOS devices only). Feed the dog, play with it and teach it tricks to increase the dog's happiness meter in GTA 5. This will make the dog more responsive or obedient.
Max Out your Character Stats Early
Upgrade your character's physical abilities early, for greater edge in the game. Perform repeated activities like running, swimming, shooting and racing cars to build skill points for stamina, weapon accuracy, driving skills and more. Visit shooting range, flight school and Ammu-nation for faster skill upgrades in Los Santos.
Tip: Practise punching on a passerby while on foot to increase your melee skills. Alternatively, use a knife for a killing spree and watch your melee skill meter rise.
Take Cover to Hide From Cops' Line of Sight
During a wild cop chase, you might encounter blue cones on your minimap, which are indicative of cops' line of sight (searching for you). If you notice a break in that line, you need to stop your car and find an alleyway or a wall to hide behind, until they call off the search. The longer you evade the cop chase, the higher your wanted level (level 3 to 4 and then to 5), which makes survival difficult without being arrested.
Unlimited Weapons and Money Cheat
Find unlimited money and weapons scattered underwater in Paleto Bay. The map is accessible once you unlock two of the main characters. Get off the shore and swim to the waypoint marked in the screenshot below.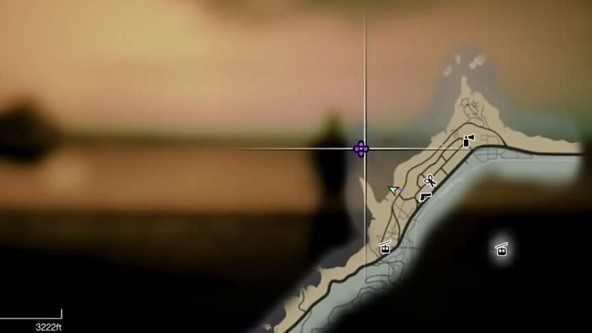 Dive underwater to locate a crashed airplane with a stash of money. Grab the cash and switch character to re-spawn the stash at the same location. Now, switch back to your original character at Paleto Bay and voila... your oxygen level is replenished and you find more money.
Rinse and repeat the process whenever you need loads of cash to buy expensive racing cars and real estate properties around Los Santos. This is a good way to get rich in no time, as you are get $12,000 every time you perform the trick.
For further asistance, check out the demo video below:
Tip 1: Every property you own earns you substantial revenue, which you can collect regularly.
Tip 2: Find weapons dealers to sell stolen weapons for more money.
Unlimited Health Cheat
GTA 5 permits healing without med-kits whenever you switch to a different character and then switch-back to the original character. After the trick is performed, your character will have full health.
Free Car / Vehicle Repairs
Trashed your expensive ride and want a fix free of cost? Just save the game and reload it. Your vehicle should be fully repaired.
Alternatively, park the vehicle inside a safehouse garage and let the shutters close. Once you return to the garage, your vehicle should be completely fixed with shiny new paint job.
ALSO READ: GTA 5: PC Release Date, Screenshots and Graphics Details Revealed [VIDEO]