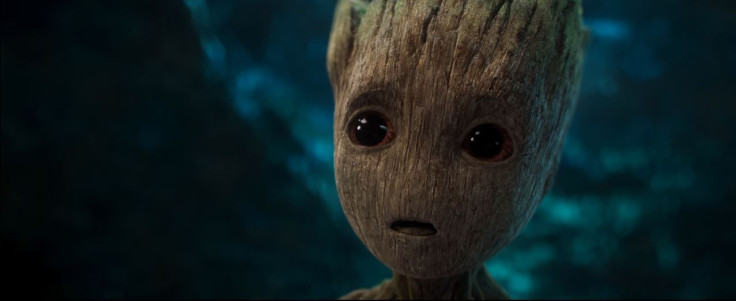 The first full-length trailer for Guardians of the Galaxy Vol. 2 has been released. The two-minute clip stars an incredibly cute Baby Groot and ever-exasperated Rocket Racoon, while also introducing new characters, including Pom Klementieff's Mantis.
Chris Pratt's Peter Quill, aka StarLord, also makes an appearance, becoming embarrassed when Mantis reads his mind to reveal his "sexual love" for Gamora – much to the amusement of Dex the Destroyer.
Excitement for James Gunn's sequel is incredibly high after the surprise runaway success of 2014's quirky debut instalment. Little is known of the
Little is known of the storyline, aside from the fact it will focus on Quill's parentage – specifically, his father, rumoured to be a literal planet called "Ego" played by Kurt Russell.
The trailer is equally as mysterious, aside from showing Baby Groot struggling to understand the risks behind pushing the big red launch button on an atomic bomb.
His sole response to warnings from Rocket, is, somewhat predictably, "I am Groot".
The vagueness of all Guardians of the Galaxy material has been an intentional choice explained Gunn to the Hollywood Reporter:
"With Guardians, people really go through every single little shot and try to figure out what the movie's about.
"And there's a lot of mysteries in Guardians 2."
The franchise's reputation for valuing a quality soundtrack also continues, with this trailer set to Sweet's Fox on the Run as a space battle ensues.
Guardians of the Galaxy Vol. 2 is also the first Marvel Studios film to be shot using the new RED Weapon 8k camera, which operates at an incredibly high resolution, resulting in sharper, more vibrant imagery.
However, the film is still a little way off, set to hit cinemas in the United Kingdom on April 28, 2017, and North America on May 5, 2017. Despite the wait, this is well in advance of the original June release date.