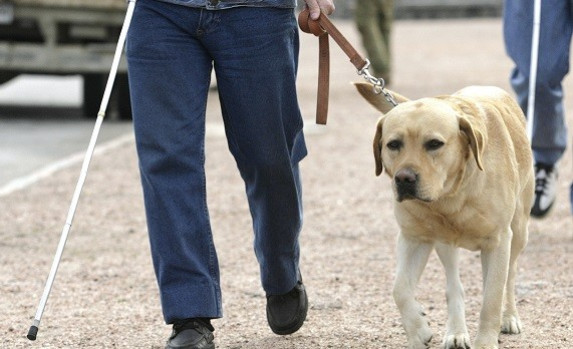 A guide dog charity has warned the number of attacks on the trained animals by other, more dangerous dogs is at an all-time high.
The Guide Dog Association is calling on the Government to give blind or partially sighted people more protection, as figures show 240 seeing-eye dogs have been attacked over the past two years - a record-high average of 10 a month and up from three a month five years ago.
Five guide dogs had to be withdrawn from service in that period, costing the charity more than £170,000.
The figures arrive as MPs discuss the Anti-Social Behaviour, Crime and Policing Bill, which would make an attack on an assistance dog an aggravated offence, and also make it an offence for a dog to be dangerously out of control when there is "reasonable concern" that it will injure an assistance dog such as a guide dog.
The charity argues people who use guide dogs should be given more protection as they are considered a "lifeline" compared to other dogs.
Guide Dogs' chief executive Richard Leaman said: "A change in the law can't come quickly enough for our guide dog owners, who too often have to bear the devastating consequences of these attacks.
"When a guide dog is attacked, someone with sight loss can completely lose their means of getting out and about independently.
"The impact on their life is huge and we are calling on the Government to do everything in its power to promote responsible dog ownership, deter these attacks, and ensure this deeply worrying trend does not continue."
Hayley Johnson, 27, described the moment her labrador Una was mauled by a Staffordshire Bull Terrier.
She said: "It was beyond terrifying. I was hysterical. I threw myself on top of them both to try and separate them. Una was yelping. The dog was clinging to her like a bone, ripping into her leg. I had this moment of clarity when I realised that I physically couldn't get this dog off her. That's when I started screaming for help."
Johnson added the attack was worse as guide dogs are trained to be passive towards other dogs and to not fight back or even bark.
She added: "It turned my life upside down. Una couldn't work for a month. I didn't dare leave the house for a long time and she was scared of other dogs. My heart was broken because she is so passive. Any sign of aggression in guide dogs and they don't make the grade."