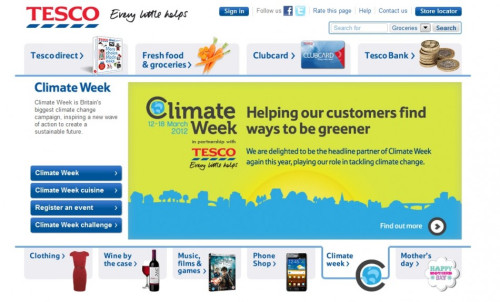 Tesco has been hit by a third round of IT failure in under two months after it revealed that cyber attackers siphoned thousands of Tesco.com customer usernames and passwords and posted them online.
One of Britain's largest supermarkets said that it has deactivated the 2000 affected customers' accounts in a bid to protect their data from being shared further.
"We have contacted all customers who may have been affected and are committed to ensuring that none of them miss out as a result of this," said Tesco in a statement.
"We will issue replacement vouchers to the very small number who are affected."
Earlier this month, Tesco accidentally revealed hundreds of customer email addresses after it was trying to apologise for a pricing error, by including all recipients' email addresses in the 'to' field.
"The security of our customer's data is of the utmost importance to us, and we apologise sincerely to any of our customers who were affected. We are conducting a thorough review of our processes to ensure this never happens again," said Tesco at the time.
At the beginning of January, the Royal Bank of Scotland (RBS) quickly pointed the finger at Tesco when its credit card customers reported that they were unable to pay for fuel at the retailer's petrol stations.
The problem occurred when customers tried to pay for fuel but found that their Personal Identification Numbers (PINs) were not accepted, even when entered correctly.
Many found their cards locked when their PIN was registered as incorrect three times in a row, meaning that their cards were unusable thereafter.
RBS insisted that it was Tesco's technology that caused the problem.
Tesco said in a statement that "we are investigating reports of problems affecting some of our pay-at-pump services. We apologise to our customers for any inconvenience caused."