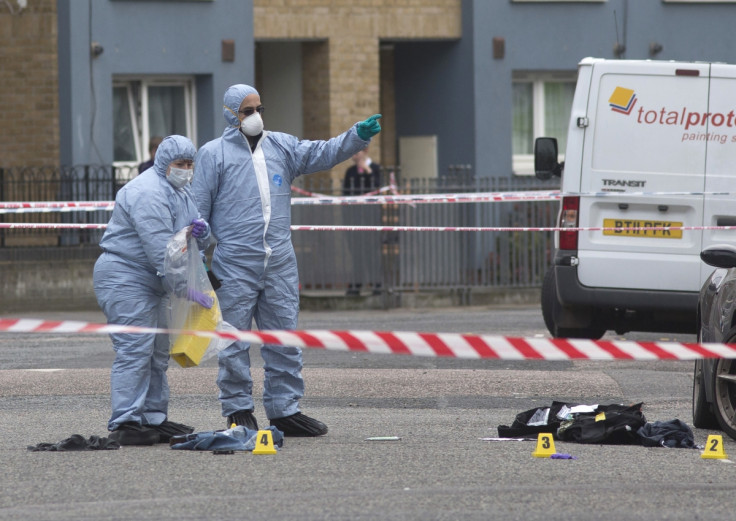 The man charged with attempted murder in connection with the shooting of a detective from the Metropolitan police's gang crime unit has now been named and appeared in court. Tyrone Henry, 31, is alleged to have wounded the officer in the shoulder during an undercover raid on 15 October in Hackney, East London.
The victim has not so far been identified but is a member of the Met's Trident Area Crime Command gun crime unit. He underwent treatment in hospital and in a stable condition.
Police hunting the suspect were reportedly armed with machine guns. At approximately 1pm, two undercover policemen were seen arresting Henry, as he sat on an area of pavement close to the scene. Forensic officers combing the area for clues have recovered a handgun.
As well as attempted murder, Henry has been charged with possession of a firearm with intent to endanger life and being a prohibited person in possession of a firearm.
Henry confirmed his name, address and date of birth during a hearing at Thames Magistrates' Court in Bow on 17 October. He will next appear at Wood Green Crown Court on 29 October. A large numbers of locals were in the vicinity of the shooting.
"We heard a bunch of yelling and a gun shot," said David Silvester, 28, a local businessman. "By the end of it there must have been around 100 cops down here. We first heard the gunfire, then all the officers were scrambling about.
"But the most interesting bit was that the whole road was filled with undercover cops. They all hopped out of their cars and local people told the undercover police to run down Lovelace Street. Some locals were pointing and shouting 'he's gone that way'. At that point the police and helicopters started showing up."
John Lui, 50, who works in a computer shop near the scene, said: "I heard one noise, like a pop, as if a car had driven over a drinks bottle. As soon as I heard the noise I saw a guy fall down, forward, flat on his face. He looked like a normal guy. No uniform. Then I saw three or four men come out from a street and run towards him to help him.
"Less than a minute later the police had all come out so quickly. Then more and more police came and I saw numerous cars and men with big guns. There were so many police, some in plainclothes and some in uniform. The whole thing happened very quickly."