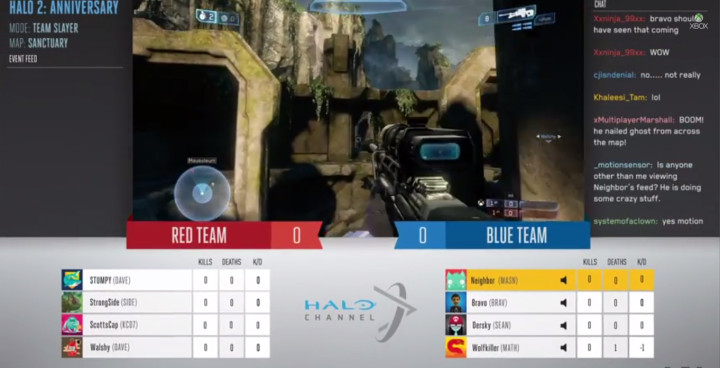 This November will mark the 10th anniversary of the release of Halo, the popular Xbox game.
To commemorate this special event, Microsoft Studios is releasing special, remastered editions of the games in the Halo: Master Chief Collection.
The collection, which was developed by 343 Industries, Certain Affinity and Saber Interactive, will include all of the Halo games, and access to the Halo 5: Guardians beta and Halo: Nightfall: a new live-action digital series.
All the games have been remastered at 1080p and 60 frames-per-second. There will be 45 campaign missions and more than 100 multiplayer and Spartan Ops maps.
Fans will be treated to new prologue and epilogue cut scenes, which will lead up to the events in Guardians, which is set to be released sometime next year. The new game will include 4v4 gameplay (four players versus four players) and have an identical skill ranking system to that of Halo 2.
The Guardians beta will offer seven maps, three game modes and a choice of 11 weapons. Any items the beta players unlock will be carried into the full game once it is released. Access to the Halo 5 beta will be available for three weeks from 29 December, for those that purchase the collection.
Halo: Nightfall
Halo: Nightfall is produced by Ridley Scott's production company, Scott Free Productions, and is written by Paul Scheuring (Prison Break).
The series will take place between the events of Halo 4 and Halo 5, focussing on the origin story of legendary manhunter, Jameson Locke (played by Mike Colter).
Viewers will see Locke and his team caught up in a dangerous terrorist attack while investigating a distant colony on the world of Sedra.
Locke is a new character to the Halo universe, but is set to play a major role in Halo 5. The Nightfall series will consist of five episodes released on a weekly basis as a streaming video, and also include special unlockable items that can be carried forward into Halo 5 upon its release.
The Halo Channel
If that wasn't enough to whet the appetite of the franchise's dedicated fans, this autumn a Halo channel will be coming to the Xbox One.
This dedicated channel will include an all-new interactive digital network of pro-streams, behind-the-scenes videos, community feeds, and full Twitch integration.
"This is your home for Halo," said Microsoft, adding that the channel will enable fans to "relive the memories, but in a next-gen experience".
Halo: The Master Chief Collection will be available to buy from 11 November this year and the Halo Channel will launch later this year.