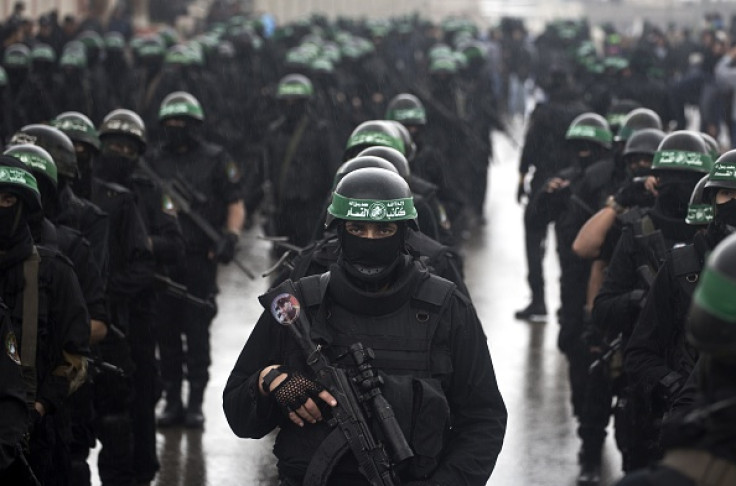 On the 27th anniversary of their founding, Hamas militants marched across the streets of Gaza vowing to banish "this illusion called Israel".
Displaying rockets and other heavy weapons, an estimated 2,000 armed Hamas militants put on a display of military prowess across Gaza as they renewed their pledge to destroy the state of Israel, reported The Independent.
The former Gazan prime minister Ismail Haniyeh was also seen holding an assault rifle on a makeshift stage and flashing a 'V' for victory sign.
"This illusion called Israel will be removed. It will be removed at the hands of the Qassam Brigades," said Khalil al-Hayya, a senior Hamas official.
Abu Ubaida, a spokesman for the Ezzedine al-Qassam Brigades, Hamas' armed wing, said another Israel Gaza conflict, like the one waged three and a half months ago, might be in the works unless the thousands of Gaza Strip homes that were destroyed in the last conflict are rebuilt.
"We will accept no less than the rebuilding of everything that was destroyed by the savage Zionist aggression," said Ubaida.
Meanwhile, Israeli prime minister Benjamin Netanyahu is set to meet the US Secretary of State John Kerry in Rome on Monday.
Amongst other topics, Netanyahu will be discussing the plea submitted by Palestinian President Mahmoud Abbas with the UN Security Council to set a November 2016 deadline for ending the Israeli occupation of Palestinian territories.
If passed, Netanyahu feels, the resolution would, "lead Islamic extremists to the outskirts of Tel Aviv and the heart of Jerusalem."