Osama Bin Laden's son Hamza Bin Laden has been put forward by al-Qaeda as the fresh face of the extremist brand in a video promising attacks on the US at home and abroad and on Israel.
In a 21-minute-long video message Hamza Bin Laden manoeuvred himself to take up his father's mantel and continue al-Qaeda's battle against western powers.
"We will continue striking you and targeting you in your country and abroad in response to your oppression of the people of Palestine, Afghanistan, Syria, Iraq, Yemen, Somalia and the rest of the Muslim lands that did not survive your oppression," said Hamza said in the message authenticated by the extremist monitoring group Site.
"As for the revenge by the Islamic nation for Sheikh Osama, may Allah have mercy on him, it is not revenge for Osama the person but it is revenge for those who defended Islam," he added.
Despite the profile now bestowed on Hamza by the video statement, placing the 20-year-old as a possible successor to current al-Qaeda leader Ayman Zawahiri, little is known about him.
Believed to be between 24-25 years old, the son of Osama Bin Laden's third wife was thought to have been killed in the Abbatobad raid during which his father was shot and killed.
According to AP reports in the aftermath of the assault, the White House said Hamza's body was recovered from the house, but later backtracked saying one of Bin Laden's other sons, Khalid, 24, had died. Pakistani authorities later confirmed one family member was missing from the compound at the time of the attack.
Documents recovered from bin Laden's home and published last year by the US, show that his aides had tried to reunite father and son while Hamza had been under house arrest in Iran.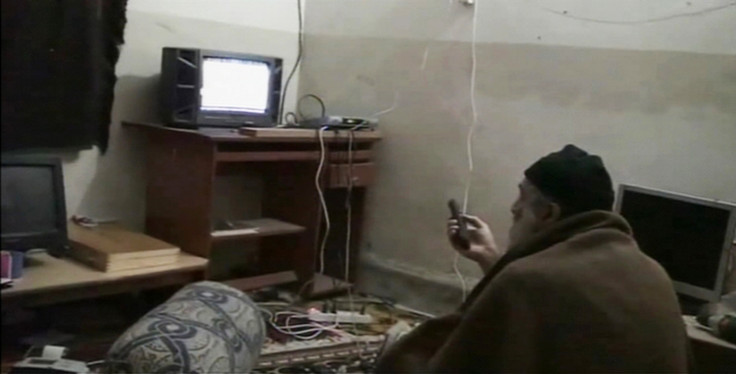 Al-Qaeda has also previously stated Hamza was under arrest until 2010 in the Islamic Republic and could not have taken part in the assassination of former Pakistani Prime Minister Benazir Bhutto, in which he has previously be implicated.
Hamza was groomed by his father for Jihad from a young age. At just ten-years-old he appeared in al-Qaeda propaganda in Afghanistan. Hamza became the presumptive heir to the terror network in 2009 following the death of his older brother Saad in a US drone strike. In 2008, he was dubbed the "crown prince of terror" by conservative MP, Patrick Mercer.
The reuse of the Bin Laden brand would appear to have far reaching consequences not just internally for al-Qaeda but also for the group's relationship with its rival the Islamic State.
Analyst Amaranth Amarasingam told IBTimes UK that after appearing to put Hamza in a leadership position, al-Qaeda groups in Syria had used his speech to place themselves in opposition to al-Qaeda. He said increasingly Islamic State was appearing reckless in jihad, particularly following its attacks on Medina.
"It is not that they are simply losing land so it's a good time to kick them while they are down but it's also the nature of their Jihad against outsiders is also a bit indiscriminate. It targets not only actual enemies but also anyone that's around," he said.