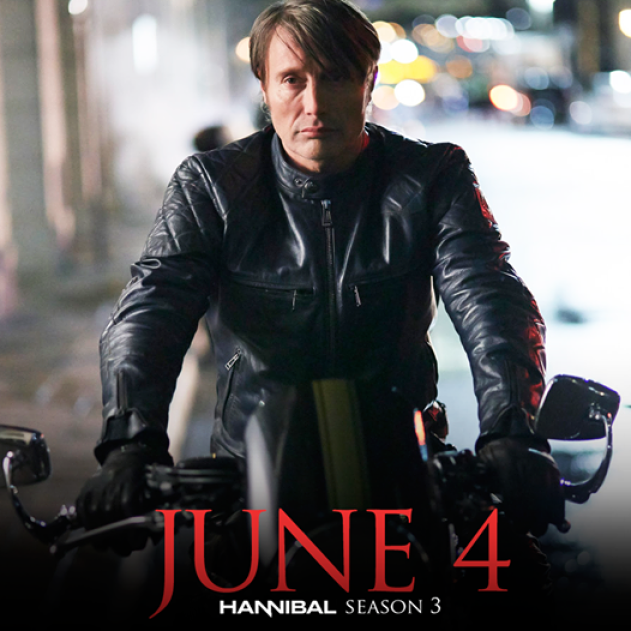 American thriller Hannibal season 3 will bring alive the creepy cat-and-mouse chase between serial killer Dr Hannibal Lecter and Will Graham, as the killer doctor has fled to France along with his psychiatrist Dr Bedelia Du Maurier after fatally stabbing the FBI agent.
A promo of the NBC thriller has hinted at a different kind of love story brewing between Lecter and his lady friend.
The couple in season 3 will forge new identities while in Europe and live as husband and wife, however it yet to be revealed whether they actually got married or not. Moreover, the attraction between the two seems vague, especially since the serial killer doctor asks Bedelia in the promo, "You are optimistic that I won't kill you," to which the psychiatrist answers, "Not entirely."
The eerie trailer of the upcoming season also hints at a bloody season as Lecter's killing spree continues to create panic.
FBI agent Graham, meanwhile, who recuperates from the near-fatal stab wounds he sustained in the season 2 finale, will go to France in search for Lecter.
The first three episodes of season 3 of the NBC series are titled Antipasto, Primavera and Secondo, and will be directed by Vincenzo Natali.
The synopsis for Antipasto reads as follows:
"The dark and haunting series "Hannibal" returns for a third season, revealing the fates of characters hanging in the balance and their continuing psychological cat-and-mouse games. After the shocking events of the season finale, Hannibal (Mads Mikkelsen) is on the run in Europe - accompanied by his psychiatrist Bedelia Du Maurier (Gillian Anderson) - sporting a new identity but servicing the same insatiable appetite. As the lives of Will (Hugh Dancy), Jack (Laurence Fishburne) and Alana (Caroline Dhavernas) converge toward Hannibal again, their deadly dance turns in startling and unexpected ways, and nothing will ever be the same again."
The series will have two parts, with the second diving deeper into the Red Dragon mythology. According to Movie Pilot, during the end of the first part, the FBI agent will finally manage to arrest Hannibal and put him behind bars and retire from his police job.
Hannibal season 3 will premiere on 4 June on NBC.