Amid simmering tensions between Israel and Palestine in Gaza, reports of attacks on Jews across Europe have become increasingly common.
At the beginning of December, a brutal attack on a young Jewish couple in the Parisian suburb of Creteil led to urgent calls for more to be done to combat hate crimes. In Italy, Jewish shop windows in Rome have been defaced with swastikas and tags reading "torch the synagogues" and "Jews your end is near".
In Germany, chants of "death to Jews" echoed from the country's darkest times have been heard at pro-Palestine demonstrations throughout the summer. Among reports of attacks on synagogues in the UK, a report commissioned by the Mayor of London revealed that 95% of hate crimes against faith groups in the capital, which have surged by 23% compared to last year, were anti-Semitic.
Such reports have led to claims the continent is facing its worst wave of anti-Semitism since the Second World War. But has there really been a surge in Europe?
Conflict response
According to the Jewish organisation the Community Security Trust, which monitors anti-Semitic incidents in Britain, the number of anti-Semitic incidents hit an all-time high in July - at the height of the Israeli bombardment of Gaza. A total of 302 occurrences were reported to the CST, the highest monthly total since records began in 1984.
It has been established that there is a rise in the number of anti-Semitic incidents in response to conflict between Israel and its neighbours. Over the last few months, Gaza has faced its greatest crisis since the Palestinian exodus of 1948 – and as the intensity of the present siege amplified, reports of anti-Semitism rose across Europe.
"There is a pattern whereby anti-Semitic incidents temporarily increase in response to trigger events," Dave Rich, of the CST, told IBTimes UK. "This is common to all forms of hate crime. We saw this kind of spike in anti-Semitic incidents this summer, and also in January 2009, August 2006, and other times that correlate to conflict between Israel and its enemies."
"It is a well-established pattern so we know that it reflects actual increases in incidents rather than simply increased reporting," Rich continued. "This is also based on the fact that at such times of increased tension, a large proportion of the incidents we record make direct reference to the particular trigger event that has caused the spike in incidents."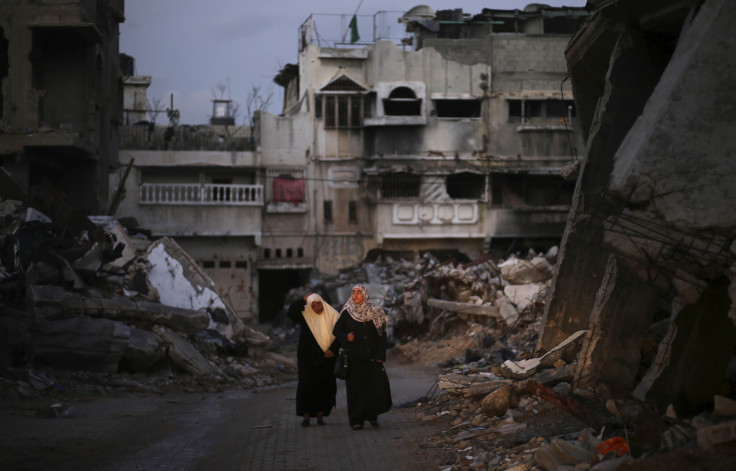 But it could be that the increase in incidents can be partly attributed to the heightened awareness of anti-Semitism amid the conflict. Essentially, people may be more inclined to report incidents which may have previously gone unreported.
"It is possible that there is some increase in reporting during such times of tension as people may be more aware of anti-Semitism or more motivated to report incidents," Rich said. "But this would not be sufficient to explain the size of the increase that we recorded in the UK this summer."
In July 2014, the organisation recorded a 400% increase in incidents compared to July 2013. These staggering figures exclude the hate crimes that go unreported, which suggests the actual total number of incidents will be higher.
Western stereotypes
Various studies suggest anti-Semitism may be escalating. According to a 2012 survey by the European Union Fundamental Rights Agency of around 6,000 Jews in eight European countries - which are home to 90% of Europe's Jewish population - three-quarters said anti-Semitism had increased in their respective countries over the past five years. One year after the survey, nearly half said they were concerned about being verbally insulted or attacked in public because they were Jewish.
A study by the American Anti-Defamation League in February 2014 told a similar story. Of 332,000 Europeans who took part in a survey of 11 questions aimed at revealing the strength of anti-Jewish stereotypes, 24% of Europeans – 37% in France, 27% in Germany, 20% in Italy – harboured some kind of anti-Jewish attitude.
Rabbi Binyomin Jacobs, chief rabbi of the Netherlands, who has experienced over the years several anti-Semitic attacks, told Israeli news site Ynet that "anti-Semitic incidents occur on a daily basis."
"There were Jews in Holland before and after the Holocaust, but what is happening today reminds many of them of the situation before World War II. I am very careful not to make such comparisons, but on the other hand, I am against turning a blind eye," he said.
Many have expressed concerns of the growing political weight of the far right in France, which is home to the largest Jewish community in Western Europe and where many of the attacks and incidents have taken place. According to France's Protection of the Jewish Community, anti-Semitic occurrences in the 2000s are seven times higher than in the 1990s.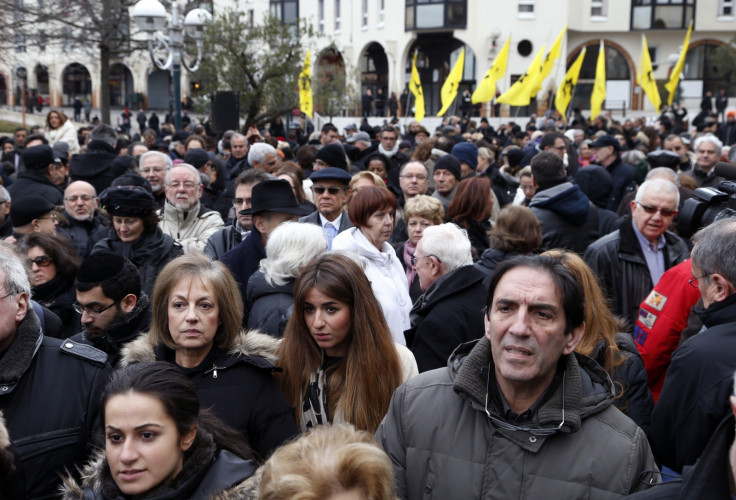 Normalisation
While the majority of anti-Semitic incidents since the summer can be largely attributed to the Gaza conflict, the CST found that the number of recorded incidents rose by over a third between January and June – before the current conflict began. This rise has led some to suggest anti-Semitism has been normalised and further incidents triggered by a series of successive anti-Semitic events.
This connection between triggers and hate crime is not limited to anti-Semitism. After the murder of Lee Rigby last year in Woolwich, south London, there was a dramatic increase in anti-Muslim incidents. This week, around 15,000 people took part in a March against the "Islamisation of the West" in the east German city of Dresden, at a time when immigration in the country is in fierce debate.
In August, French Prime Minister Manuel Valls told the National Assembly of a new "normalised" form of anti-Semitism, which "blends the Palestinian cause, jihadism, the detestation of Israel and the hatred of France and its values." Similarly, Germany's President Joachim Gauck spoke of a similar problem, calling on Germans to "raise their voices if there is a new anti-Semitism being strutted on the streets."
Successive conflicts in the Middle East, from the Second Intifada in 2000 to the trio of Israel-Hamas conflicts in 2009, 2012 and 2014, have been interspersed with several highly-publicised anti-Semitic murders in France and Belgium. Mark Gardner, of the CST, told the Guardian that these events had served to "encourage the anti-Semites" rather than shock – which has in turn led to an increase in attacks.
"In the UK and France, it is possible to track the annual totals that we publish and also those published by [French Jewish watchdog] the SPCJ in France to see whether there is a long-term increase," Rich said. "Generally speaking the annual incident totals fluctuate depending on whether there are any 'trigger events' each year but they are significantly higher now than they were at the beginning of the 2000s."
In France, the atmosphere has deteriorated since the Toulouse shooting in May 2012, when gunman Mohamed Merah shot dead seven people, including three children and a young rabbi outside their Jewish school.
"It is fair to say that anti-Semitic attitudes are latent in parts of society and events like the Israel/Hamas conflict this summer bring them out," he said. "This is not to say that entire societies or communities are anti-Semitic – far from it – but that those people who have latent anti-Semitic feelings are more likely to express them at times like this summer."
Recent anti-Semitic events
France, December 2014: Three armed individuals robbed a Jewish couple - a 19-year-old woman and her 21-year-old partner- at gunpoint, and raped the woman. The assailants reportedly told the couple they shouldn't try to pretend they didn't have money because they knew they were Jewish.
France, November 2014: A visibly Jewish male was beaten by a group of approximately 15 teenagers outside a school in Paris.
Belgium, November 2014: A rabbi was stabbed in the throat by an unknown assailant while walking to a synagogue in Antwerp.
Belgium, September 2014: A synagogue was the target of an arson attack in Anderlecht.
UK, September 2014: Jewish schoolchildren were refused entry to a sports shop by a security guard who told them "no Jews" were allowed in.
Italy, August 2014: Posters urged people "not to buy from Jews", listing shops in Rome that are alleged to be owned by Italian Jews.
Germany, July 2014: "Jew, coward pig, come out and fight alone" was chanted next to Berlin's main Holocaust memorial.