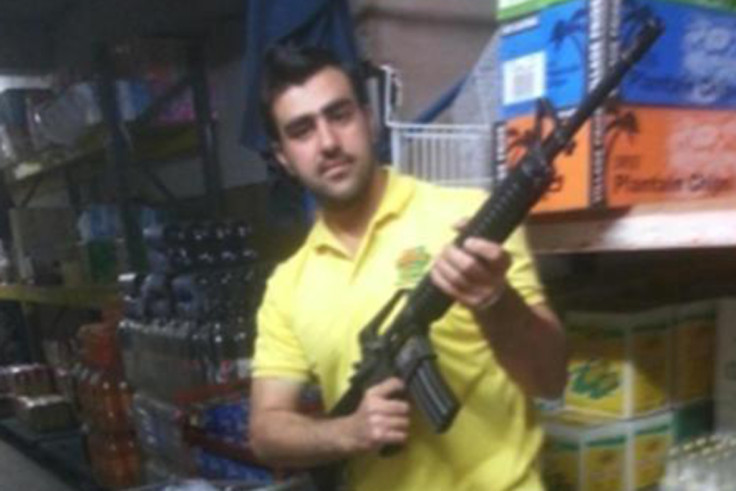 An Afghan asylum seeker accused, in Italy, of being a member of an Islamic State (Isis) cell, planning attacks in Britain, has claimed that the gun he was holding in photos released by police was a toy weapon. Hakim Nasiri denied being a terrorist a day after a he was released from jail, in the Italian city of Bari, for lack of evidence.
The 23-year-old said that a key piece of evidence that brought about his arrest on 10 May bore the fruit of misunderstanding. He claimed that photos police alleged of him holding a M16 semi-automatic rifle were taken by friends in a Birmingham supermarket he used to work at.
The rifle, he said, was a replica on sale in the toy department of the store. "The photo was a joke between friends," he told local media.
His lawyer, Adriano Pallesca, told IBTimes UK that Nasiri lived in and worked irregularly in Britain between 2013 and 2014, after being smuggled into the UK on a truck from Calais. The lawyer didn't know the name of the store that employed his client, who initially arrived in Italy in 2011, via Greece and Turkey.
Italian authorises had only granted him provisional asylum on 5 May, days before he was arrested. Prosecutors alleged that, along with a number of accomplices, he had carried out a series of scouting operations in Britain and Italy in preparation for possible attacks.
Police retrieved images of landmark sites, including a number of London hotels and Rome's Colosseum, from Nasiri's mobile phone as well as alleged jihadi propaganda material.
In a picture uploaded on a Facebook page believed be his, the man could also be seen making the middle-finger gesture towards a poster of Malala Yousafzai, the Pakistani girl rights' campaigner and Nobel prize-winner who was shot by the Taliban.
Nevertheless, on 12 May a judge ordered Nasiri to be released from custody saying that, although elements of the case suggest the suspect "belonged to the world of radical Islam", there was no indication he actively attempted to turn ideas into actions.
Pallesca went further, claiming that his client was no radical at all. "I am a responsible for a foreigners reception centre located inside an evangelical church here in Bari and he has come a few times to pray there. An Islamist fanatic wouldn't have done that."
The lawyer was not immediately alerted when Nasiri was let out of jail and was not able to contact him for a few hours afterwards, leading to concerns on his whereabouts. The asylum-seeker later explained he had spent the night at a friend's house. Prosecutors said they would appeal against the decision to free him and he remains under investigation.