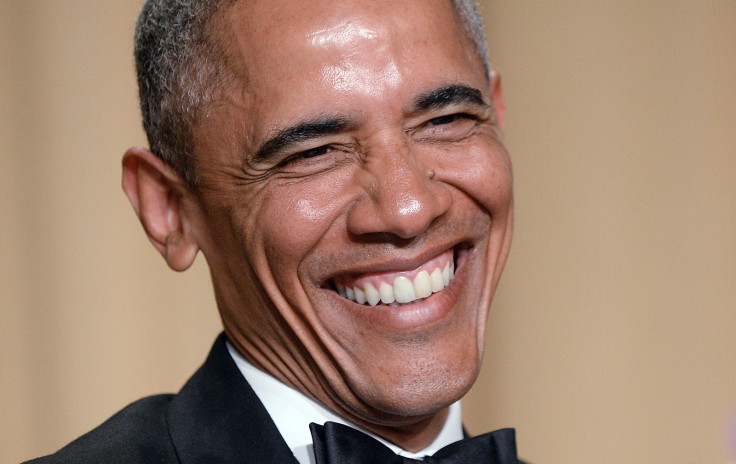 Barack Obama is enjoying his last birthday in the White House today (4 August 2016) as he turns 55. It will no doubt be a bittersweet occasion as the US president spends the day with wife Michelle Obama and daughters Sasha and Malia, while reflecting on his seventh year in office.
The commander-in-chief will say goodbye to the Oval office in the coming months and aside from his political achievements, he will leave behind some unforgettable memories. Whether serenading audiences with his soulful voice or reading Mean Tweets with late night talk show host Jimmy Kimmel, Obama has been nothing less than entertaining.
Malia and Sasha may be embarrassed by their father at times but Obama has undoubtedly been the coolest president to have walked the White House halls. In celebration of the POTUS' 55th birthday, IBTimes UK takes a look back at his most entertaining moments.
When he dropped the mic
Obama chose the perfect way to close his valedictory speech at the White House correspondent's dinner in May. After making a reference to The Red Wedding in Game Of Thrones – unbelievably cool – Obama said: "With that, I just have two more words to say. Obama out," before dropping the mic on the floor. Genius.
When he flirted with a voter
It is no secret that Obama has a certain kind of charm. However, one man was not too impressed when the president took up a booth next to his girlfriend in a voting station. The jealous boyfriend, named Mike Jones, rather bravely told POTUS: "Mr. President, don't touch my girlfriend," to which he replied: "I really wasn't planning on it."
After Aia Cooper apologised for her significant other's boldness, Obama cheekily added: "There's an example of a brother just embarrassing me for no reason... But fortunately the president was nice about it."
Clearly not bothered about the repercussions, Obama went in for the kill and hugged Cooper, saying: "You're gonna kiss me, give him something to talk about. Now, he's really jealous." Obama = 1, Mike = 0.
When he sang Al Green
If Obama is stuck for things to do when he leaves the White House, becoming an Al Green tribute act could help pass the time. In 2012, Obama sang a snippet of Green's classic; Let's Stay Together, and it was marvellous.
When he joined Zach Galifianakis on Between Two Ferns
Obama's tolerance levels were well and truly tested when he appeared on the rather ridiculous online comedy series Between Two Ferns. The president and comedian Zach Galifianakis traded insults for almost seven minutes and it might just be one of the best things you will ever watch.
Surprisingly, it was actually Galifianakis who was nervous during the meeting. Obama told On Air With Ryan Seacrest: "Zach actually was pretty nervous. It was funny to watch you know, 'cause this whole Between Two Ferns shtick... his whole character is to go after the guests. I think he was looking around seeing all these Secret Service guys with guns and thinking, 'I wonder what happens here if I cross a line?'"
When he read Mean Tweets
It takes a brave person to read comments about themselves posted by trolls but Obama played ball. One scathing message read: "Obama's hair is looking greyer these days. Can't imagine why since he doesn't seem to be one bit worried about all that's going on." Ouch!
When he talked about eating 'crack pies'
As the sitting president of the United States, Obama could not possibly do drugs in the White House – but the pies his chef made were the next best thing apparently.
When he called Kanye a "jackass"
Clearly not a fan of the famous rapper, it is clear whose side Obama was on in West's feud against Taylor Swift.