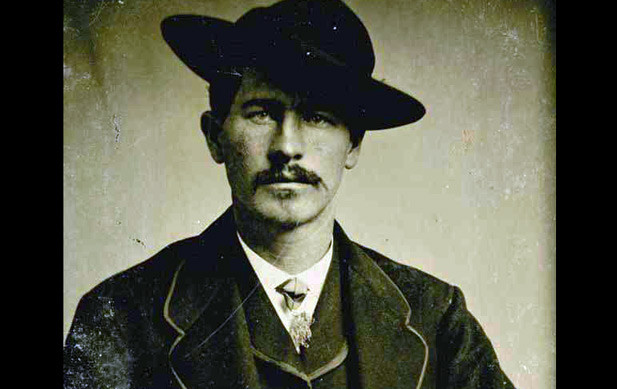 Wyatt Earp, born on 19 March 1848, was the deputy Sheriff of Pima County and Deputy Town Marshall in Tombstone, Arizona.
Before he died in January 1929, aged 80, Earp had enjoyed a colourful life with a well-documented history working as a sheriff, policeman, gambler, teamster, buffalo hunter, boxing referee, brothel owner and pimp.
Considered the toughest and deadliest gunman of his day, Earp was also regarded as the main figure in the shootout at the OK corral, during which he killed three outlaw cowboys.
The gunfight took place on 26 October 1881 and is considered the most famous gunfight in the history of the American Old West.
Lasting about 30 seconds, the bloody spat involved outlaw cowboys Billy Claiborne, Ike and Billy Clanton, Tom and Frank McLaury on one side and Earp and his aides on the other.
Buffalo hunter William Barclay "Bat" Masterson described Earp as a man "whom I regarded as absolutely destitute of physical fear. Wyatt Earp's daring and apparent recklessness in time of danger is wholly characteristic".
Earp was married three times and has been the subject of numerous biographies, TV shows and movies, the most famous being the movie Wyatt Earp, starring Kevin Costner in the role of the fearless gunslinger.
Here are five of Earp's best quotes:
"Fast is fine, but accuracy is everything. In a gun fight... You need to take your time in a hurry."
Prior the start of the gunfight, Earp said to his rivals:

"I think you came here to make a fight with me, and if you did, you can have one here right now."

And:

"The fight has now commenced, go to fighting or get away!"
Earp described his friend John Henry "Doc" Holliday, who helped him during the gunfight as:

"The most skilful gambler and the nerviest, speediest, deadliest man with a gun that I ever knew."
"I did not intend to fight unless it became necessary in self defense, and in the performance of official duty. When Billy Clanton and Frank McLowry drew their pistols I knew it was a fight for life, and I drew and fired in defense of my own life and the lives of my brothers and Doc Holliday."