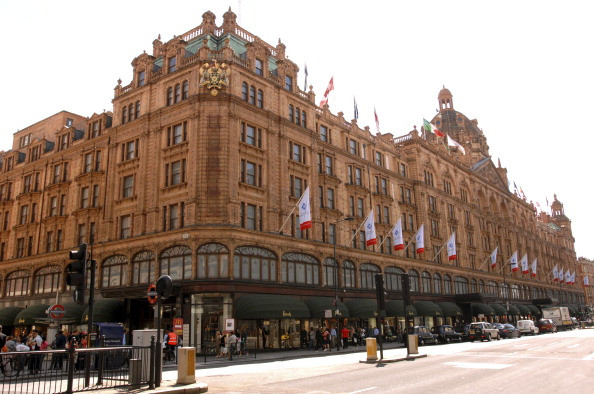 London's most premium department store has just gotten even more luxurious after Harrods launched its brand new Superbrands floor, home to major fashion houses including Chanel, Prada, Givenchy and Alexander McQueen.
Situated on the first floor of the sprawling store, the cream-carpeted corridors of the Superbrands space are lined with big-name designers with their mini stores modelling the best of their Autumn/Winter and Spring/Summer 2015 collections.
Simply put, it is every fashionista's dream but even those hesitating to loosen the purse strings may be tempted by the straight-off-the-runway pieces on offer.
During the launch party hosted on 3 June, Dolce & Gabbana gave pride of place to their elegant Spanish-inspired dresses that debuted at the SS15 Fashion Week in October 2014.
Contrasting their bright and bold statement pieces was Alexander McQueen with the beige, blue and red colour scheme of their AW15 collection handpicked by Sarah Burton in Japan.
On the more chic and glamorous end of the spectrum, Chanel's beautifully clear space was given a dazzling edge by the label's blinding jewellery, strategically positioned in each spare corner of their store.
While some guests sashayed through the corridors, indulging in the canapes, cocktails and Martinis made especially by a particularly cheerful bartender, others marvelled at the first ever retail store from Ralph & Russo.
The brand have hit a home run with their first boutique, which features a truly exquisite bridal gown prominently displayed in their main room. The dress' train provides the centrepiece for the floor and will undoubtedly be a big-seller for the haute couture label.
With other stores situated on the floor, including Prada, Gucci, Givenchy, Dior, Miu Miu, Fendi and Louis Vuitton, fashionistas will be spoilt for choice when shopping for the latest trends.
The convenience of having all the stores located in one place, coupled with the fact that most of the brands are offering customers the chance to purchase pieces that are yet to be on sale, certainly earns Harrods brownie points.
Superbrands is haute couture at its finest.