Just like actress Angelina Jolie, British comedian and rogue political commentator Russell Brand is celebrating his 40th birthday today.
The Get Him To The Greek star has so far marked his special day by sharing an ironic selfie with the caption: "Selfie or no selfie."
Yes, Brand is full of wisdom and funny little catchphrases so to celebrate his milestone, IBTimes UK have found some of his best quotes to date...
On charity work
"Like most of the superficially decent things I do in life, my motivation was to impress women more than to aid the suffering"
On finding love
"I like threesomes with two women, not because I'm a cynical sexual predator. Oh no! But because I'm a romantic. I'm looking for "The One". And I'll find her more quickly if I audition two at a time"
On Barack Obama
"The joy of Obama's presidency after eight years of Bush amounts to an insipid blow job at the end of a rotten evening. Very nice for a moment, but who's going to actually mop up the mess?"
On David Cameron
"Any British politician, like Prime Minister David Cameron, who claims to be a Christian, which means 'to practise the teachings of Jesus Christ', has to, like Jesus, heal the sick, not, like a c**t, sell off the NHS"
On his sense of style
"I would define my looks as a Victorian Child-catcher. Or an S&M Willy Wonka who likes to use a riding crop on his own leg in his spare time"
On the unemployed
"Why in our lifetimes was there a programme called Dogs with Jobs? They used to put it on at 11.30am! I resented a programme called Dogs with Jobs being put on when they knew unemployed people would be watching"
On George Osborne
"I shook George Osborne's hand once, by accident, it was like sliding my hand into a dilated cow"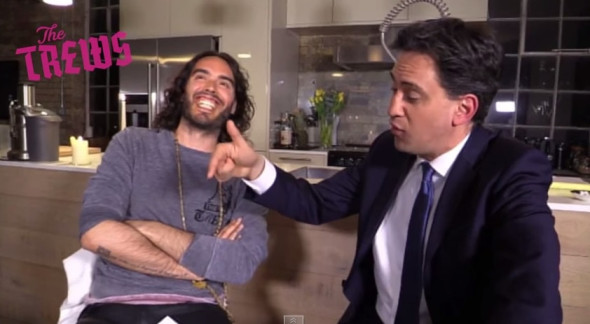 On poverty vs. the western world
"Of all the consumer products, chewing gum is perhaps the most ridiculous: it literally has no nourishment – you just chew it to give yourself something to do with your stupid idiot Western mouth.
"Half the world is starving, and the other's going, 'I don't actually need any nutrition, but it would be good to masticate, just to keep my mind off things'"
On monogamous relationships
"It's no coincidence that monogamy sounds so much like monotony"
On himself
"A Halloween-haired, Sachsgate-enacting, estuary-whining, glitter-lacquered, priapic berk... How dare I, from my velvet chaise longue, in my Hollywood home like Kubla Khan, drag my limbs from my harem to moan about the system?
"A system that has posited me on a lilo made of thighs in an ocean filled with honey and foie gras'd my Essex arse with undue praise and money"
On life and death
"Life is not a theme park, and if it is, the theme is death"