The future of Hart Of Dixie is still up in the air, but an online petition to save the show has given fans some hope for season 5.
E! News has launched its annual Save One Show campaign, which places TV series in jeopardy of being cancelled against each other.
The said competition is in its final round. Hart Of Dixie has made its way into the finals along with ABC drama Agent Carter. Viewers can decide which of the two shows deserve a chance to be saved from the axe.
While Dixie is winning with 63.4% votes, its rival Agent Carter is trailing with 36.6% votes.
Actor Jaime King and Scott Porter turned to social media to encourage fans to vote.
King, who played Southern belle Lemon Breeland, shared a snapshot of the results on Instagram and wrote:
"You guys just FILL my heart with LOVE!!! I cannot believe out of all these shows that you have voted us into the lead! You are amazing and we just love and adore you. #FanPower"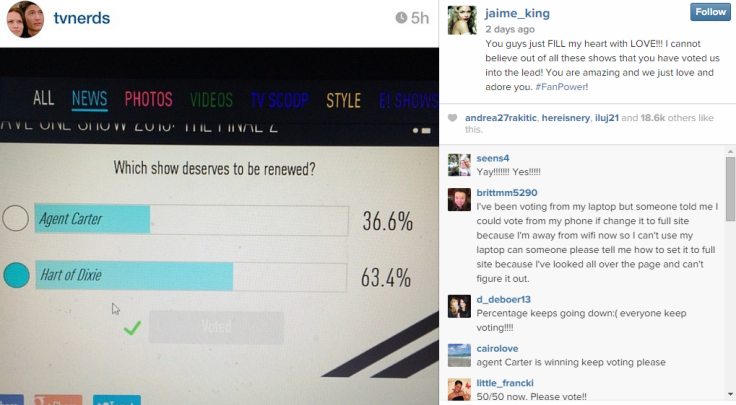 Actor Scott Porter, who has been vocal about the show's status, has also asked fans to vote for Hart Of Dixie on Twitter.
Porter, who plays lawyer George Tucker, tweeted:
Hey #HartofDixie fans, go here, read it, VOTE accordingly. #SaveOneShow http://t.co/wcJYceerVg

— Scott Porter (@ScottPorter) April 6, 2015
Kaitlyn Black, who plays Annabeth, also expressed her gratitude for the fans who voted for Dixie.
Thank you to all the amazing fans who voted to save our show! The gratitude I feel cannot be expressed in words. I'd like to hug you all..

— Kaitlyn Black (@kaitlyn_black29) April 9, 2015
Here are a few fan tweets on saving the CW show.
@CW_network #LongLiveTheHart don't cancel Hart of dixie!!! Best show ever!!!! — Jess Price (@JessThomas27) April 9, 2015
@kaitlyn_black29 has the final vote been announced please tell me their keeping Hart of Dixie

— Amanda (@abutcher26) April 9, 2015
@kaitlyn_black29 are you allowed to say who won the #SaveOneShow ?? I'm gonna be so upset if #HartofDixie didn't win — Katelyn Marie Klusaw (@katelynmklusaw) April 9, 2015
The final round of #SaveOneShow is NECK AND NECK! Vote now: @cwhartofdixie or @AgentCarterTV! http://t.co/sGA0OoTSMj pic.twitter.com/BU3v9GKuwp

— E! Online (@eonline) April 8, 2015
@kaitlyn_black29 I voted to keep it on!!! Still soooo sad #HartofDixie is over with please let us know when you're on another show! — yvennifer (@watdez) April 9, 2015