Has Goldman Sachs lost the Midas touch?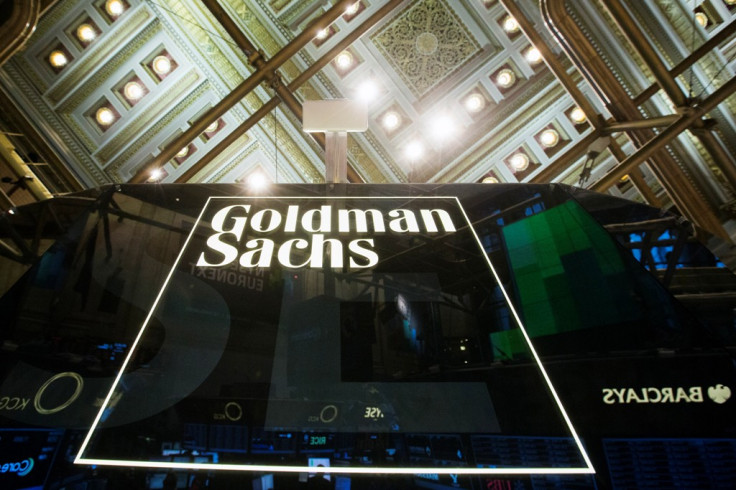 There could be more bad news on the way for Goldman Sachs, after over 20 analysts revised their initial estimates and now expect the US banking giant to post a sharp decline in earnings-per-share later this month.
Despite 11 firms listed on the S&P 500 already having posted quarterly results, the US earnings season unofficially kicks off on 11 April, when aluminium giant Alcoa will report its quarterly earnings. Wall Street's focus is firmly on the slew of major banks, such as Goldman Sachs, that will report in a period which, analysts have warned, could be one of the worst earnings' seasons of the decade.
Over the past four weeks, some 22 analysts have slashed 94% off the average estimate for Goldman Sachs's adjusted earnings-per-share, marking the fourth consecutive quarter-forecast of the lender's results being revised downward shortly before its earnings report
After the revision, one of the largest for the New York-listed bank since the 2008 financial crisis, analysts now forecast Goldman Sachs will post a 45% year-on-year decline in earnings-per-share to $3.31 (£2.34, €2.91) on 19 April.
The figure is expected to represent the steepest decline among major US-based banks and would represent a serious disappointment for Goldman Sachs, which as little as three months ago was forecast to put a difficult end to 2015 behind it.
The negative stance adopted by economists points to a growing realisation that, while markets have improved in March, the volatility that shook equity markets late in 2015 and over January and February left lasting damage.
Goldman Sachs and, albeit to a lesser extent, Morgan Stanley and Citigroup are thought to be still too exposed to the trading and investment banking businesses compared to other major banks. Analysts have cut the average estimate on Morgan Stanley and Citigroup by 14% and 15% respectively.
According to data complied by Bloomberg, forecast for the likes of JPMorgan Chase, Bank of America and Wells Fargo – all of which are less reliant on the investment banking business – has not changed by more than 3% over the last four weeks.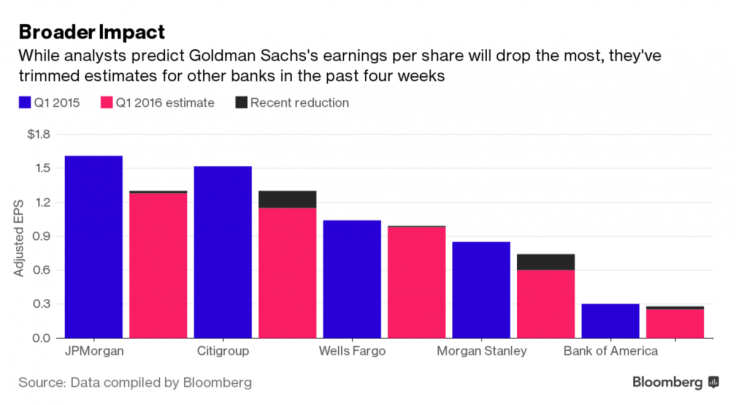 Goldman Sachs has seen an improvement in the performance of its investment banking division thanks to an increased number of customers, although that has been offset by elevated legal expenses.
"Goldman's well-diversified business continues to ensure earnings stability, while capital strength enhances inorganic growth prospects," analysts at Zacks Investment Research said on 5 April, explaining their decision to downgrade the rating on the stock from 'hold' to 'sell'.
"At the same time, steady capital deployment activities bolster investors' confidence, and foraying into the ETF market will act as a tailwind. However, litigations and stringent financial reforms continue to weigh on the company's profitability."
© Copyright IBTimes 2023. All rights reserved.