Has President Trump saved Twitter?
Trump and the US Election couldn't have come at a better time for the struggling social network.
For the tech industry the fallout from the US election could be a hammer blow with those in Silicon Valley fearing what regime will be seen under Donald Trump. Yet there's one success story to emerge from the rubble in that Twitter may have been saved from its demise by the Presidential race.
Twitter also has been no stranger to disappointing news as of late. It's been beset by lagging behind rival user numbers, failing to attract interest from a buyer, shutting down its social video platform Vine and announcing it'll be laying off 9% of its workforce. But all it took was a world-stopping event to help raise it off the floor.
By far the most popular social network of choice during the election results was Twitter, leaving rivals Facebook, Instagram and Snapchat eating its dust as it revealed over 75 million tweets were sent as people hit the polls. It was the de facto platform for people to express opinion, support and, ultimately, disbelief.
News stories around the world turned to Twitter to embellish articles with embedded snippets of reaction from the people. Since the primary debates began in August 2015 there have been over 1 billion tweets sent in the US alone, according to Twitter.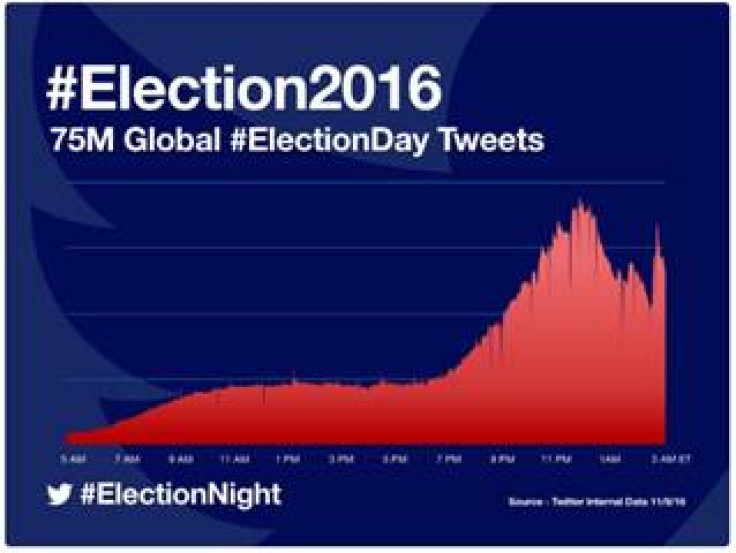 Soaring high. The volume of Twitter chatter over the election night.
Twitter
It seems the US election couldn't have come at a better time for Jack Dorsey and Twitter's collar-yanking board members.
With roughly 317 million monthly users compared to Facebook's 1.79 billion the social media company has been shopping the platform to the highest bidder. The likes of Disney, Microsoft and Salesforce were all rumoured to have been courting the acquisition but for Twitter's desperate board members, no bid appeared on the table.
The fact Twitter is wanting to sell-up is not a good sign for its future, but what's worse is the fact this internet darling is apparently wanted by no one. Its struggle to monetise its service and its problematic abuse culture has clipped the blue bird's wings.
A vote of confidence
But with the global attention it received during Election Day the social platform has been catapulted back onto centre stage, proving its value and importance as a much-needed, much used news resource and soapbox. As Twitter claims on a blog: "This has been called the Twitter Election, with every step of the campaign playing out in Tweets from voters, candidates, and journalists."
This is the impetus Twitter needs to strike back, not least to remind those who passed up the chance to buy it they may have made a mistake or convince new suitors to open up their wallets. All of which could be seen as key to keeping the platform's future flying high.
As tech analyst Ben Johnson of Stratechery explains when talking about the need to save Twitter: "the capability of spreading information more widely and more quickly than has ever before been possible; the societal benefit is an externality that needs to be preserved."
As we know, Twitter's hamartia is the trolls and the difficulty to control the hate culture on the service. This was reportedly the cause for Disney pulling out of a bid, but in an ironic twist it could be that Trump (someone who many have lambasted for similar qualities) could help Twitter off the ropes. His election campaign and now life as President of the United States has re-started its heart by inadvertently reminding everyone of Twitter's importance and value. Jack Dorsey, it's over to you.
© Copyright IBTimes 2023. All rights reserved.