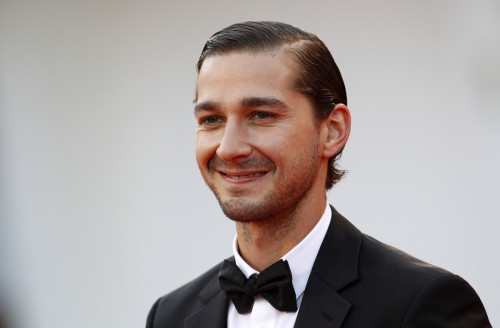 You may have heard about Shia LaBeouf acting a little strange of late.
Plagiarism rows, sky-writing, method acting, "retirement from public life", Jim Carrey? LaBeouf has been in the headlines like never before – and not because of his skills as an actor.
It all began in mid-December when short film HowardCantour.com, written and directed by LaBeouf, was found to have plagiarised the work of comic book writer Daniel Clowes.
As the extent of his plagiarism became apparent the film was quickly removed from the web, and 27-year-old Shia soon reacted on Twitter, saying: "In my excitement and naiveté as an amateur filmmaker, I got lost in the creative process and neglected to follow proper accreditation."
Fair enough... but then things got strange.
Turns out a later apology he tweeted was lifted in part from a four-year old Yahoo Answers page about artistry and using the ideas of others. The American actor didn't stop there though. Not long after he was found out for copying someone a second time, he actively did it again – and this time it was intentionally obvious.
Now sending multiple apologies to Clowes, LaBeouf was found to copy elements of Tiger Woods' apology following the golfer's notorious affair, and a book about the Vietnam war by former US defence secretary Robert McNamara.
At least it couldn't get worse... oh no wait.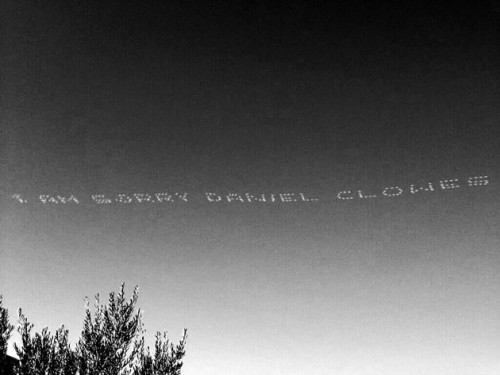 To ring in 2014 LaBeouf hired a sky-writer to plaster "I am sorry Daniel Clowes" across the skies above Los Angeles. Actor Seth Rogen and comedian Patton Oswalt were among the stars who joked about the odd gesture... and Shia noticed.
Last week LaBeouf announced a new short film project - Daniel Boring - and posted some storyboards placed over pictures of Oswalt and Rogen. Daniel Boring was a not-so-subtle nod to another Clowes story called David Boring.
Clowes allegedly responded with a Cease and Desist letter, which LaBeouf posted pictures of in full online, before eventually deleting them.
Around the same time reports emerged that the young thesp had annoyed his fellow actors on the set of World War II drama Fury by "going method" and refusing to shower. Brad Pitt and Jason Isaacs were among the actors reportedly not pleased with his antics.
This is in line with the actor's recent acting exploits, which have included sending sex tapes of himself to Lars von Trier in a successful attempt to audition for the auteur's controversial film Nymphomaniac – which features unsimulated sex scenes. He reportedly also sent pictures of his penis in the hope of getting the role.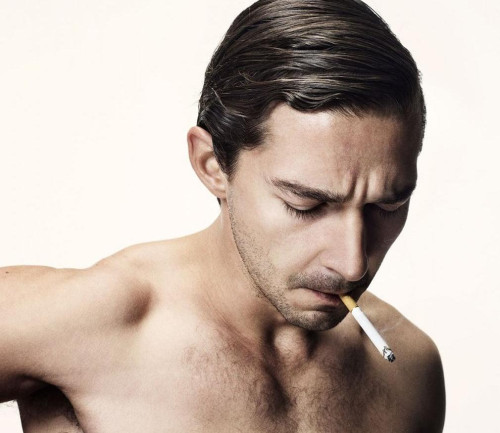 On the set of last year's Charlie Countryman, LaBeouf also claimed to have taken LSD, but the film's director Fredrik Bond wasn't impressed - telling entertainment news website Vulture that the script called for the character to take ecstasy, not LSD.
Not long after the Cease and Desist letter was issued, LaBeouf claimed that he would be "retiring from public life" after "attacks" on his "artistic integrity". Retiring from public life sounded to most like he was leaving Twitter, but of course, that didn't last long.
The latest developments of the ongoing will-he-won't-he-be-sectioned drama, came in response to a joke made by Jim Carrey during the recent Golden Globes ceremony in LA.
While presenting American Hustle with a Best Picture prize, Carrey made sarcastic use of actor Edmund Kean's alleged final words, saying: "Dying is easy. Comedy is hard. I believe it was Shia LaBeouf who said that. So young, so wise."
LaBeouf obviously didn't take it in good jest, tweeting the above in response. It doesn't mean anything, but before long he added: "At least I don't get arrested for indecency on major LA highways! Or abandon love child's (sic)."
The bitter personal attack on Carrey was deleted by LaBeouf soon after it was sent and he apologised. He then made a few changes to his Twitter profile, and at the time of writing only follows one person - Jim Carrey's daughter Jane.
His profile also reads: "Error breeds sense."
On this evidence, that might not be the case.