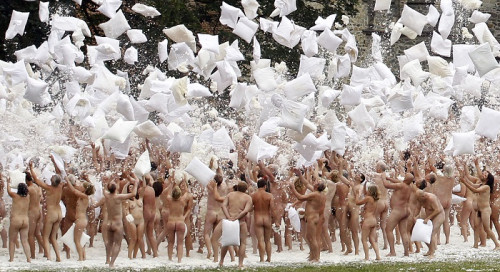 Up to 30 residents of the UK seaside resort of Hastings have staged a naked flash mob on the beach in an attempt to attract the attention of an acclaimed US photographer.
The exhibitionists braved the biting cold on Hastings beach in the hope of convincing body artist Spencer Tunick to stage one of his mass nude photo shoots in the East Sussex town.
Participants disrobed and held up placards encouraging members of the public to "Vote Hastings".
Hastings is competing against Brighton and Folkestone to host Tunick as part of a public vote organised by Culture 24, a Brighton-based non-profit cultural organisation.
The Jerwood Gallery in Hastings is up against Brighton's Royal Pavilion and Museums and the Georges House Gallery in Folkestone to host a photo shoot by Tunick as part of the Connect 10 Museums at Night Festival weekend in May.
Participant Hannah Corke, 25, said: "I thought it was really funny. It hasn't been done before. I gave birth five months ago and it's quite liberating to get naked in front of lots of people and get rid of that post-pregnancy fear."
Fellow participant Sam Wickham, 43, added: "I gave birth six months ago and I also thought it would be liberating. My body is probably not in the best shape, but I'm happy to show it off. There was a lot of camaraderie."
Liz Gilmore, director of the Jerwood Gallery, said: "Hastings is so celebrated for its special festivals, including Jack in the Green, Pirate's Day and Hastings bonfire.
"The culturally rich and quirky traditions of Hastings and actual site location would make a wonderfully fitting context for this one-off event."