The diversity of London was clear at a vigil to honour the victims of the London Bridge attack: Christian clerics in purple cassocks and Muslims in black T-shirts bearing the words "I am a Muslim: Ask me anything" stood shoulder to shoulder with Buddhist monks in saffron robes and Londoners of no particular religion.
People of all ages braved the rain to pay their respects, with some breaking into tears during a minute of silence for the victims and staying behind to lay down flowers. Mourners held signs with messages such as "hate will not divide us" and "stand up to racism", while others carried balloons shaped as hearts. The loudest and most sustained applause came for police and emergency workers.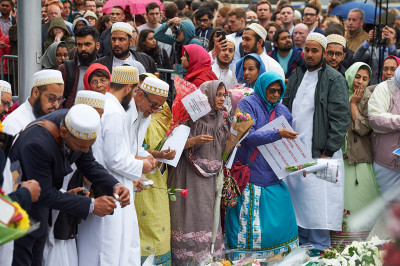 London Mayor Sadiq Khan, the first Muslim mayor of a major western capital, said the Islamist extremists who targeted civilians in bars and restaurants were despicable and the city would be resilient in the face of the attack. "You will not win," Khan said. "We will defeat the terrorists."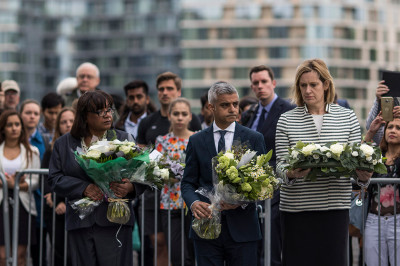 Leaders from London's Muslim communities called on fellow believers to do more "to root out the scourge of terrorism", following the London Bridge attack that left at least seven dead and dozens injured. Speaking on their behalf, Metropolitan Police Commander Mak Chishty said the Muslim community was "alarmed and concerned" that the latest attack, in which three knife-wielding assailants rammed a van into pedestrians on London Bridge and stabbed others nearby, was not reported beforehand, especially as its preparation could not have gone unnoticed.
"Terrorism and extremism is hurting Islam. Muslims must do more to stop such attacks from happening again and we want to know how we can play a greater role in the future," Chishty continued, speaking on the behalf of Muslim community leaders.
Police have identified two of the attackers as Khuram Shazad Butt, a 27-year-old Pakistan-born Briton and Rachid Redouane, who alternately used the surname Elkhdar, and claimed to be Moroccan and Libyan. He used two different birthdates that would make him either 25 or 30, authorities said.
Police have not yet released the identity of the third person involved in carrying out the attack on London Bridge, where the van swerved into pedestrians, and in nearby Borough Market, where the knife-wielding assailants slashed and stabbed anyone in their path. Besides the dead, dozens more were wounded by the men, who wore fake suicide vests to make themselves look even more imposing.
All three were ultimately shot and killed by police. Twelve others taken into custody have since been released.