Metropolitan Police detectives have released new images from the £200m Hatton Garden heist revealing the huge hole thieves drilled through a supposedly impenetrable wall to access a vault laden with diamonds and gold.
Photos taken at the scene of the robbery at Hatton Garden Safety Deposit, near the City of London, show a hole measuring 50cm deep, 25cm high, and 45cm wide and 89cm from the floor as well as piles of security deposit boxes strewn across the floor.
The masked gang, who are still at large, used power tools, including an angle grinder, concrete drills and crowbars to break into the facility on Thursday, 2 April, and plundered 72 safety deposit boxes of an estimated at £200m ($292m) worth of jewels over the Easter Weekend.
In scenes reminiscent of a Hollywood blockbuster, the thieves disabled a second floor lift and climbed down to the basement of the deposit in Holborn before drilling through a 6ft (2m) thick vault wall.
There was no sign of forced entry to the outside of the building and the thieves disabled the communal lift on the second floor and then used the lift shaft to climb down into the basement.
They then forced open shutter doors into the basement and bored holes into the vault wall.
The Met's flying squad said the raiders entered the building twice over the bank holiday weekend. However, the force has been criticised for overlooking CCTV cameras in Greville Street, near Hatton Garden, which captured the heist in progress and for ignoring an alarm on Good Friday.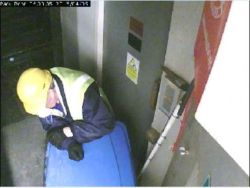 Officers finally arrived at the scene on 7 April - five days after the gang first entered the building.
Detective superintendent Craig Turner, head of the Flying Squad said, "We have now completed our forensic examination of the scene. The hours of forensic work and inquiries have been vital in order to ensure we are able to exploit all investigative opportunities to their fullest extent and assist us in identifying those individuals responsible.
"We appreciate that this situation has been frustrating for those affected by this crime and thank those individuals for their ongoing patience and support.
"Those safety deposit boxes not opened by the thieves during the burglary have been left secured as they were found throughout the examination. HGSD are in the process of making contact with owners to arrange collection of it.
"Of the 72 boxes opened during the burglary, we have only been unable to make contact with six people who we believe have been a victim of crime. We continue to make efforts to trace them. "
A former armed robbery detective Jim Dixie previously revealed the gang had an "inside agent" to break into the vault.
"[I believe] there was an inside agent who probably gave them a plan of the building, facilitated their entry perhaps and at the very least sold the information about the vaults or was probably on the job with them," he said.